The ROWBERRY Family Gathering
This event is to be held over Memorial Day Weekend
Friday 25th - Monday 28th May 2001
at The Best Western Salt Lake Plaza Hotel, Salt Lake City, Utah, USA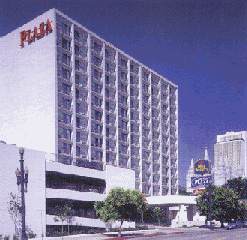 The idea of this weekend is that anyone with an interest in the name ROWBERRY and its many variants can come along and learn more about who their ancestors were and how and where they lived. They can meet some more of their present-day relatives and honour the memory of their ancestors.
It may also prove of interest to those people who, although they may not have ROWBERRY blood in their veins, share a common ancestry of birth-place and religious beliefs which took them halfway across the world to help build a new country.
Participants will be welcome for all or part of the weekend and room accommodation has been arranged at The Best Western Salt Lake Plaza Hotel, which is located next door to the Family History Library in Salt Lake City. It is just 12 minutes away from the SLC International Airport, with a complimentary Airport Shuttle Service.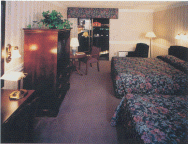 The Plaza Hotel offers spacious rooms with comfortable king and queen-size beds; cable TV (with 40 channels!) and computer data ports; irons and ironing boards; complimentary coffee and coffee makers; individually climate controlled heating and air conditioning. Coin operated soft drinks dispensers are available in the corridor and a coin-operated launderette in the basement. Other amenities offered include a year-round outdoor heated swimming pool, hydro spa Jacuzzi and exercise room. It also has a unique western-style gift shop. JB's Family restaurant provides breakfast and other meal facilities, with many others within walking distance. On the Saturday we will be making full use of the Hotel's meeting and Banquet facilities.
Being situated next door to the World's largest Genealogical Library it is ideal for our purposes, and with the FHL open until 10pm on Tuesdays to Saturdays you may well wish to extend your stay at the discount rate which we have arranged for the weekend. Directly across the street is historic Temple Square with the Mormon Tabernacle which also features on our programme for the weekend. Nearby are two large shopping malls. In the Crossroads Mall, which is about a block away, there is a genealogy shop selling books, charts, t-shirts, etc. Even if you are not interested in doing your own Family History research you may find that you need a longer stay to explore the many attractions of Salt Lake City and the wonderful scenery of Utah.
Memorial Day Weekend
This is an ideal date for our event. Not only is it a long weekend, with the Monday being a holiday, but it is also the first weekend when many of the heritage sites are open for the season. Memorial Day itself was begun as a day "for the purpose of strewing with flowers or otherwise decorating the graves of comrades who died in defence of their country", which at that time were considered to be those who had served the Union (northern states) in the Civil War. However later the day was broadened to embrace the men who fought in the Confederate Army (southern states), then to include all heroes who had made the supreme sacrifice in all American conflicts from the Revolutionary War to World War II. It is now observed as a day when respect is paid to all who have died, having lost its pure military significance. Memorial Day has become the one day in the year when all should pause in respectful tribute to those who have walked this earth before us. Thus our visits to the Cemeteries at Tooele and Fountain Green will be ideal for our expression of our respect to the pioneering members of our families, wherever they came from and wherever they settled.
		Your silent tents of green
		We deck with flagrant flowers:
		Yours has the suffering been,
		The memory shall be ours.
				Longfellow
Friday 25th afternoon: 4pm Seminar Plaza Hotel "Getting the most out of Research in Salt Lake City." This is a free, hour-long seminar presented by the Hotel as part of their mission "to support the efforts of each and every family historian pursuing challenges and adventures in the LDS Family History Library". This seminar, given by Heritage Consulting and Services, is designed to compliment the orientation offered by the FHL itself.
5.30pm Orientation Family History Library. A free 20-minute introduction given by the FHL and that follows on from the Seminar. Together they will form an ideal starting point for those new to researching in the FHL.
Free time and evening meal, which you are responsible for.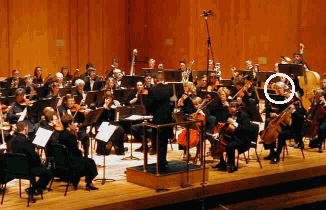 Friday 25th evening: 7.30pm Concert Salt Lake Symphony, Gardner Hall, University of Utah.
Joyce Otterstrom, great-grandaughter of Joseph ROWBURY, is a cellist in this orchestra (see picture).
This performance consists of the following pieces:
The Magic Flute Overture - Wolfgang Amadeus Mozart
Violin Concerto op. 47, D minor - Jean Sibelius
Symphony no. 2 "Romantic" - Howard Hanson
There is no charge, and it will last about an hour and a half with no intermission. No children under age 8 are admitted.

Overnight rooms at the Plaza Hotel.

Saturday 26th morning:
After breakfast, which you are again responsible for, the day's events will begin in the Plaza Hotel.

9am

on Registration When you sign in you will receive colour coded name badges, details of the visits and meals that you have booked for (if any) and a copy of your own branch of the Family Tree as far as it is already known. The badges will enable you to identify relatives in the same tree as yourself, who may be previously unknown to you.

10-10.30am

Welcome and introductory session by Polly Rubery.

10.30am-4pm

"Get-together", with displays of family trees, etc. It is hoped that all attending will bring along as many items of interest relating to their own family as they can. This would include photographs, documentation and if you have already done some research, your research files. Please also bring a small passport-sized photograph of yourself to be added to the trees on display. This was by far the most popular part of RONS-2000, as new-found relatives got to know one another, and identified their relationships by means of the extensive Family Trees on display. This will be open to all interested participants, not just those staying at the Hotel. For those not wishing to go on the afternoon trip, or only able to come in the afternoon, it will continue until 4pm.

12.30-1.30

Buffet Lunch This will be supplied by the Plaza and will be open to all, not just those staying at the Hotel. However the meal must be booked and paid for in advance.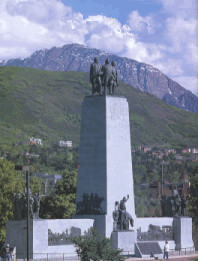 Saturday 26th afternoon: 2-5pm Optional visit to This Is The Place Heritage Park. Here Old Deseret Village will be celebrating its first day of the season with Living History, a recreation of the Pioneer way of life in mid-1800s Utah. Here you can visit over 50 historical buildings which include carefully restored or recreated homes, stores, churches and other structures essential to a busy pioneer community. Andrew Lambert, the Marketing Manager of This Is The Place Heritage Park, says that one of the most popular buildings there is the Samuel Jewkes Home. This has been moved from its original location in Fountain Green. It is a must for our visit, as Samuel JEWKES was an in-law of Joseph ROWBURY, and Joseph stayed with him before his family came out to join him in Utah. The fee for entrance to the Village is $4 per person, which includes waggon rides, access to most of the buildings (including the Jewkes home) and many demonstrations of pioneer life and crafts throughout the village by knowledgeable people in pioneer costume.
Saturday 26th evening: 6.30pm Western Barbecue Theme Dinner Buffet at the Plaza. Again this will be supplied by the Plaza and will be open to all, not just those staying at the Hotel. However bookings and payment must be made in advance.
Overnight rooms at the Plaza Hotel.
Sunday 27th morning:
Breakfast, which you are again responsible for.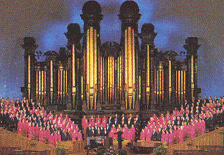 9am

Tabernacle Choir Broadcast The Mormon Tabernacle, Temple Square. The broadcast, which is free, starts at 9.30, and is over at 10.00. This will allow us a leisurely drive west out of the city through Tooele County to meet at The City Park in Tooele for a picnic lunch at noon. (Box lunches will be available by pre-booking and payment). We have reserved the Pavilion, which will be our base for the day.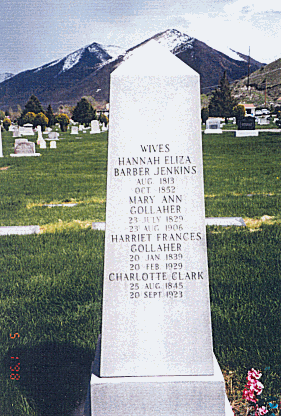 Sunday 27th afternoon: 12noon Visit to Tooele and Grantsville We will be meeting at noon in The City Park (at the Tooele Pool, near Tooele High School). There are lots of picnic tables available, and a covered pavilion in case of too much sun or bad weather. Both have been reserved for our use. It is centrally located for all the things that we wish to visit. There are also nearby stores, open on Sundays, where refreshments, drinks, ices, etc can be purchased.
After enjoying our picnic lunch, we will be able to visit the grave of Bishop John ROWBERRY who lies here, far from his birthplace in Herefordshire, in the town which he helped to create. Many of his descendants are buried here; many still live in the area. As our tour guide we will be priviledged to have a great-great-dranddaughter of John Rowberry, Alice L. Dale who lives in Tooele. We also hope that other local members of the family will come and join us for lunch and our tour. We will also pay a visit Grantsville where John built a home for his fourth wife, Charlotte Clark and her family.
Overnight rooms at the Plaza Hotel.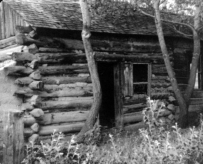 Monday 28th morning:
Breakfast, which you are again responsible for, and then a prompt start for the two and a half hours' drive to Fountain Green in Sanpete County. Here again we will meet at 12 noon in the Park for a picnic lunch. (Box lunches will again be available by pre-booking and payment).
Monday 28th afternoon: 12noon Visit to Fountain Green Here, after enjoying our picnic lunch, we will be able to visit the Clara ROWBURY's log cabin and of course the family graves in the cemetery. We are privileged to have as our guides Ira R Coulson, Joseph's grand-son and Joyce Pay, Joseph's great grand-daughter. Hopefully other living family members from the area will come and join us for lunch and our tour.
Bookings now being taken!
For further details of costs etc or to receive a booking form please contact
Polly Rubery
Looking forward to seeing you there!


URL= http://www.newbury.net/rowberry/2001.html
Last revised: 15th January 2001
©Polly Rubery 2000