The ROWBERRY Family Gathering
This event is to be held over the weekend of Friday 5th - Sunday 7th April 2002
at The Hundred House Hotel, Great Witley, Worcestershire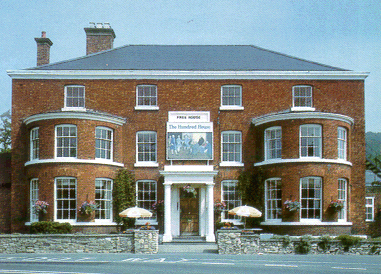 T

his weekend is for anyone with an interest in the name ROWBERRY or one of its many variants found today or in the past. The theme of the weekend is "Family Groups" and new information from the 1901 census will be available. So come along and learn more about your family group both past and present.

Participants will be welcome for all or part of the weekend and will be able to choose between staying at The Hundred House Hotel or making their own arrangements.

The Hundred House Hotel offers the very highest standards of accommodation and conference facilities, and serves a fine choice of locally produced food. All bedrooms have private bath/shower, remote colour TV, direct dial telephone, tea/coffee making facilities, etc.

It is situated on the A443 Worcester to Tenbury Wells road approximately 12 miles from Worcester, 20 miles from Stourbridge and 30 miles from Birmingham. It is set in rolling countryside in an exceptionally beautiful part of Worcestershire, lying in a fold between the Abberley and Woodbury Hills. It is an ideal setting for our purposes as it lies close to the very origins of the ROWBERRY family and will facilitate the exploration of our roots during the weekend. It proved a very popular choice with those who attended RONS-2000, their praise for the accomodation and food being lavish.

If you would like to view a location map for the hotel please click on the button. This is a large file and may take some time to download.

The Hundred House has a very interesting history of its own. To read about this follow this link.
Details of local Bed and Breakfast accommodation and of caravan and camping sites are available for those wishing to make their own accommodation arrangements.

Programme
Friday 5th afternoon:


3pm Visit to Witley Court and Church at Great Witley, Worcester. Now described as "England's Finest Country House Ruin", a hundred years ago it was the splendid home of the Earls of Dudley, with the profits of their coal and limestone mines in the Black Country lavished upon it. You can explore the house and gardens at your own pace with a personal audio tour. Adjoining is "England's Finest Baroque Church" which is breath taking inside and not to be missed! Close by is a tea room for those needing refreshment after their journey. Please assemble outside in the Car Park at 2.45pm for your visit. For those with their own transport there is plenty of car parking available.
Friday 5th evening:
7.30pm Dinner at The Hundred House Hotel.
Accommodation at The Hundred House Hotel.
Saturday 6th morning:
7.30-8.30pm Breakfast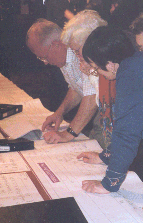 9am on Registration
10-10.30am Welcome and introduction by Polly Rubery and Nicky Rowberry.
10.30am-5pm "Get-together", with displays of family trees and ROWBERRY One-Name Study research files and indexes. People will be welcome to come (and go) at any time. The theme will be "Family Groups" and besides being able to meet up with other members of your extended families, there will be people to answer your questions about your family and hopefully you will be able to help us to fill in a few gaps in our research! Please bring any research that you have done, and any family photograhs and documents that you have, so that you can share it with others. New information from the 1901 census will be available. It is hoped that everyone who attends this session (and there is no requirement for you to join us for any others) will be able to receive an up-to-date family tree for their own branch of the family. We would also ask everyone coming to bring a small passport-sized photograph of themselves which can be added to the trees on display.

During the day we will break for:
11am Coffee
12.30-1.30pm Buffet Lunch
3pm Tea

Saturday 6th evening:
8pm Banquet. This will be open to non-residents of the hotel as well as residents, and will consist of traditional English dishes prepared from locally produced ingredients.

Accommodation at The Hundred House Hotel.

Sunday 7th morning:
7.30-9am Breakfast


9.30am Trip to Rowberry Court at Bodenham, the place which was the original source of the name. On the way we will pass through Tenbury, which has been a home to the ROWBERRY family since the fourteenth century, and also along Rowberry Street in Bromyard.

12.30-1.30

Sunday Lunch: We will return to The Hundred House for a traditional roast lunch.

Sunday 7th afternoon:
2pm Trip to Bishops Frome, where Bishop John ROWBERRY was born. He and his family were amongst the first Mormon converts in Herefordshire and we will visit the cottage from where they set out on their journey to the USA. On the way there we will travel through Leigh, and down Fromes Hill. We will conclude our weekend with a visit to the Hop Pocket Craft Centre, an Aladdin's cave of crafts, food and other presents. The Farmhouse Fayre Restaurant there will be happy to serve you with Tea!

Bookings now being taken!

For further details, costs etc or to receive a booking form please contact
Polly Rubery

Looking forward to seeing you there!


URL= http://www.rowberry.org/2002.html
Last revised: 30th September 2001
© Polly Rubery 2001