The ROWBERRY Family Gathering
This event is to be held over the weekend of Friday 18th - Sunday 20st May 2012
at The Hundred House Hotel, Great Witley, Worcestershire
PLEASE NOTE the revised Programme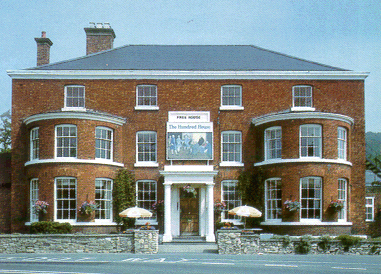 T

his weekend is for anyone with an interest in the name ROWBERRY or one of its many variants found today or in the past. The theme of the weekend is "Links" and will celebrate the links that the DNA Project has already made. Some of these validate the family trees that we have already drawn up, others have joined together trees with no documentary link (at present anyway!). The most exciting of these was the fact that the ROWBERRY Tree Two family, based in Leigh, Worcestershire since the mid-1600s shares the same ancestors as the RUBERRY Family of Cornwall, which has been established there since the mid-1600s. We have plenty of other new information to share with you, so come along and learn more about your family's surname both past and present.

Participants will be welcome for all or any part(s) of the weekend and will be able to choose between staying at The Hundred House Hotel or making their own arrangements.

The Hundred House Hotel offers the very highest standards of accommodation and conference facilities, and serves a fine choice of locally produced food. All bedrooms have private bath/shower, remote colour TV, direct dial telephone, tea/coffee making facilities, etc.

It is situated on the A443 Worcester to Tenbury Wells road approximately 12 miles from Worcester, 20 miles from Stourbridge and 30 miles from Birmingham. It is set in rolling countryside in an exceptionally beautiful part of Worcestershire, lying in a fold between the Abberley and Woodbury Hills. It is an ideal setting for our purposes as it lies close to the very origins of the ROWBERRY family and thus facilitates the exploration of our roots during the weekend. It has proved a very popular choice with those who have attended the previous Family Gatherings there (RONS-2000, RONS-2002, RONS-2005 and RONS-2008), their praise for both the accommodation and food has been lavish.

If you would like to view a location map for the hotel please click on the button. This is a large file and may take some time to download.

The Hundred House has a very interesting history of its own. To read about it click on this button.
Details of local Bed and Breakfast accommodation and of caravan and camping sites are available for those wishing to make their own accommodation arrangements.

Programme
Friday 18th May afternoon:


2pm Visit to Witley Court and Church at Great Witley, Worcestershire. Now described as "England's Finest Country House Ruin", a hundred years ago it was the splendid home of the Earls of Dudley, with the profits of their coal and limestone mines in the Black Country lavished upon it. We visited it in 2002 but it is worth a return to see the fountain and garden features that have since been restored. You can explore the house and gardens at your own pace with a personal audio tour. Adjoining is "England's Finest Baroque Church" the stunning interior of which was created by the Foley family, ironmasters of Stourbridge, who owned Whitley Court before the Wards. Please assemble outside in the Car Park at 1.45pm for your visit. For those with their own transport there is plenty of car parking available. Or if you have already booked in at The Hundred House Hotel, then it is not very far to walk!
4pm Cream tea in the Garden Tea Rooms, Great Witley. Set in Lady Dudley's private topiary garden our tea will be laid out for us in the Conservatory.
Friday 18th May evening:
7.30pm Supper at The Hundred House Hotel.
This is open to non-residents of the hotel as well as to residents.
Accommodation at The Hundred House Hotel.
Saturday 19th May morning:
7.30-8.30pm Breakfast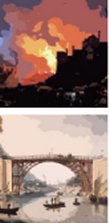 9am Trip to Ironbridge Here you have two choices:

Option 1: 10am to 5pm Industrial Revolution Seminar SORRY this Optioon is now fully booked! hosted by the Guild of One-Name Studies at the Coalbrookdale & Ironbridge Community Centre. This will examine the periods of the 18th & 19th centuries when so many Rs moved away from the rural counties of Herefordshire and Worcestershire drawn by the promise of work in the newly growing industrial areas. Coffee, Buffet lunch and tea are included in this Option.
You can find the programme for the Seminar on the Guild website.

Option 2: 10am to 5pm Visit to the Ironbridge Museums There are ten of these and a passport ticket gives you entrance to them all. It is valid for a year if you don't manage to visit them all today. No coffee, lunch or tea is included with this option.
You can see the delights on offer at the Ironbridge Gorge Museums website


Saturday 19th May evening:
8pm Banquet. This will be open to non-residents of the hotel as well as to residents, and will consist of traditional English dishes prepared from locally produced ingredients.
Accommodation at The Hundred House Hotel.
Sunday 20th May morning: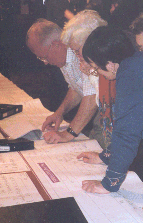 7.30-9am Breakfast

9am onwards Registration
9.30am Welcome and introduction by Polly Rubery.
10am-12.30pm "Get-together", with displays of family trees and other ROWBERRY One-Name Study research. People will be welcome to come (and go) at any time. The theme will be "Links" and you are invited to take a free Y DNA test. You will be able to meet up with other members of your extended families, there will be people to answer your questions about your family tree and hopefully you will also be able to help us to fill in a few gaps in our research! Please bring along any research that you have done, and any family photographs and documents that you have, so that you can share it with others. We have gathered a lot of new information since the last Family Gathering in 2008. Everyone who attends this session (and there is no requirement for you to join us for any others) will be able to receive a free, up-to-date family tree for their own branch of the family.
During the morning we will be served with:
11am Coffee



12.45-2pm

Sunday Lunch: The Hundred House serves a traditional roast lunch.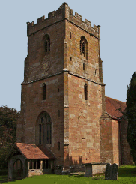 Sunday 20th May afternoon:
2pm Trip to Leigh Sinton, Worcestershire, the base of the ROWBERRY Tree Two family for 200 years from the mid-1600s The DNA Project has shown that this family has the same ancestors as the RUBERRY Family of Cornwall, who have been there ever since the mid-1600s. But where did they come from before that?
Bookings now being taken!
For further details, costs etc or to receive a booking form please contact
Polly Rubery
Looking forward to seeing you there!


URL= http://www.rowberry.org/2012.html
Last revised: 12th May 2012
© Polly Rubery 2011-2012