Incorporating a Mini ROWBERRY Family Gathering
This event was held on the afternoon of Saturday 15th February 2020
at The Bishops Frome Village Centre
Bishops Frome, Herefordshire, WR6 5AR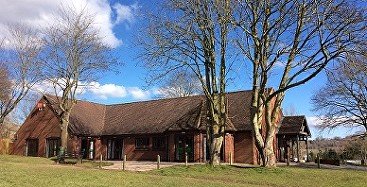 T

he first ROWBERRY Family Gathering was held in 2000, when it was a late celebration of my 50th birthday. Age has wearied me somewhat but I am still plodding on with the One-Name Study, and so this special birthday also included another Mini ROWBERRY Family Gathering.

I was so pleased that so many people braved the floods to join me on this special day! Luckily there was enough cake for all and everyone did get home safely!.

I used this event as an excuse to celebrate all facets of my life, hence the title Collision of Worlds as I keep finding that they do!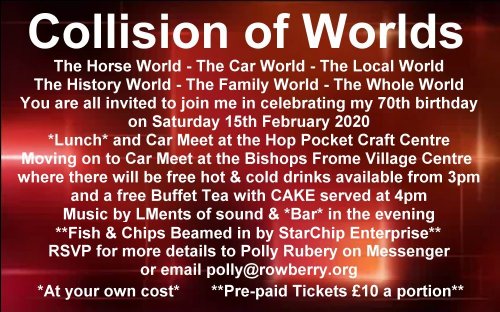 Programme

Starting 11.30 for Car Meet at The Hop Pocket, Bishops Frome, WR6 5BT (see Map and directions below). Since the dog attack (whilst out ER Canvassing in October 2016) I have had increasing problems walking, due first to the damage caused to the hip replaced in 2012, and then the collapse of the good one in 2019. (Update: this hip was replaced in September 2020.) Also in recent years my eyes have been giving me problems with close and computer work, so the cars had somewhat replaced the Family History over the last few years. Thus I have made many good friends in The Car World and so the part of this celebration had to be a Car Meet! (Another update is that I now have dedicated glasses for computer use, so things are better - just as well as there was not much chance to use the cars in 2020 nor in 2021!)
I'm pleased to report that all my vehicles attended and several others braved the weather and joined us there, although others joined us whilst leaving their precious cars at home or even if they didn't have one. Here are mine all lined up at Bishop's of Bromyard (sadly closed in 2020) waiting to go – at that time this was their second home and mine, as I had been a customer for the 20 years since I moved to Herefordshire. People ask why I have three of them - the answer is it was not intentional! POL2Y I bought in 2014 to replace a previous similar Escort Mk6 Ghia Cabriolet. Even that was not intentional, but having fallen over her on her owner's (a police officer from Bracknell in Berkshire!) mother's drive in Bishops Frome while out Electoral Regster Canvassing, I just had to leave a note saying "If you're ever interested in selling this car...". I didn't expect to hear more but I did... The other two I bought as donor cars as they both have the rare RS Trim; but then I found that they were too good to break, so they find themselves restored to the road! (A further update in that I sold POL2Y in June 2020 but have since bought a futher two projects!)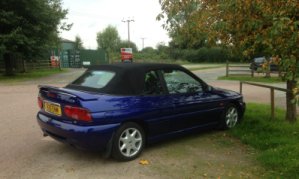 12 noon Lunch at The Hop Pocket, Bishops Frome, WR6 5BT. Many people did join me for lunch - so many that we spread over quite a few tables!
The photo shows EllenMay parked in a nearly empty car park at the Hop Pocket, not long after I put her back on the road in late September 2017.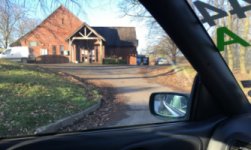 At 2.30pm we moved the short distance up the road (see Map and directions below) to the Bishops Frome Village Centre, Bishops Frome, WR6 5AR, seen here in a photo taken from Lily. The Car Meet will continue here, and you were welcome to join us here at any time after that. And of course leave at any time at all!
From 3pm onwards the Village Centre was open for FREE Hot and Cold drinks and nibbles, with various displays from all my different Worlds including Horses, Cars, Local History, Books and last but not least, Family! This will include Trees and Research from The ROWBERRY One-Name Study. I do have to apologise that much to my great disappointment I was let down at the last minute by the person who had promised to come and help me to mount the photos for the various dispays - although I had spent weeks sorting through 60 year's worth of photos etc. selecting the best to use for them. As I had to rewrite the RONS Displays I was at least able to bring them; along with my display on the "ROWBERRY Family and the Mormons in Herefordshire", which did at least contain some of my local history research! And I'm pleased to say that those R Connections that I did know were coming did get their Family Trees!
At 4pm a FREE Buffet Tea was served including CAKE, and a toast! Thankfully many people came to enjoy this and most were not in too much of a hurry to leave and the celebrations continued on into the ...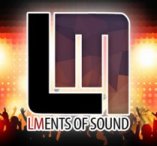 Evening with Music by Lments of Sound, and a Pay Bar. If you told me your favourite tipple then hopefully they had it! The music was great too - so nice to hear so many tracks from my past!
At 8pm The StarChip Enterprise were ready to serve their wonderful Fish and Chips. They docked earlier but soon got up to warp speed! Sadly we didn't quite manage to eat all the 50 portions of Fish & Chips that had been ordered, but it was not for want of trying or any fault in them! By this time the weather was getting worse and people decided not to stay and risk getting stranded by flooding.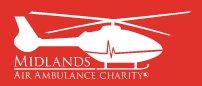 I was not looking for presents (although I did get a few!), just your presence, and I'm pleased to say that the donation buckets for the Midlands Air Ambulance Charity were found to contain £300 . Responsible for funding and operating three air ambulances serving the communities of six Midlands counties: Gloucestershire, Herefordshire, Shropshire, Staffordshire, Worcestershire and the West Midlands, this constitutes the largest air ambulance operating region in the UK. And my Donation Page on Facebook raised a further £220; so in all I managed to raise over the £500 I had hoped to do to support this very worthwhile cause! My grateful thanks to all who donated...
Contact:
Polly Rubery
It was wonderful to see so many friends there and yes there were a few surprises too and I hope that if you came you enjoyed it all as much as me!


URL= http://www.rowberry.org/CoW2021.html
Last revised: 22nd December 2021
© Polly Rubery 2020-2021