The Wedding Present

I

n the summer of 2000 I received an email from Chris Cullimore, a fellow GOON who lives in South Wales. On a visit to an antique shop in a local town she had spotted the name ROWBERY! She wrote:

"Arthur and myself visited a small market town in the Vale of Glamorgan last week and in one of the antique shops, was a very large loving cup. Approximately 2 pints in quantity with a handle either side, gold on a white ground and inscribed on the front was the following dedication: " A Present from George Harris of Hanley to Albert Rowbery of Hereford". Apparently it is c.1880, cost £185.00."

Naturally I wrote back to say that I was very interested, and which town was it? Her reply came back:

"We called in to the Antique Centre on Friday, they still have the cup for sale. I took several photographs and they will be developed on Tuesday. The antique centre is in Ebenezer Chapel, 48 Eastgate, Cowbridge, Glamorgan, CF71 7AB.Telephone number 01446 771190."

This was more than I was expecting. The photos came out well and show the inscription: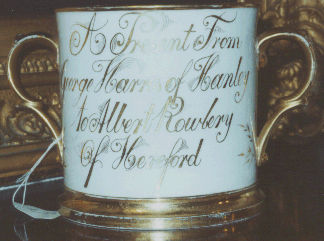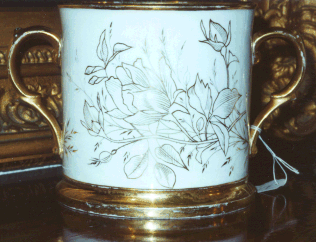 At the beginning of June 2000 I was able to purchase the mug and returned home with it, interested to see if I could work out its history. There was no mark at all on the base to give any further clues. But by the end of that day, thanks to the LDS, I had formulated the following history.

As there were several possible Albert ROWBERRYs of Hereford (no ROWBERYs!) I decided to try and see if I could find George HARRIS at Hanley. By using the 1881 census index on CD-ROM I was able to find that there were none in Hanley at that time, but there was the following entry:

RG11/2724 f101 p52
Staffordshire, Stoke Upon Trent, Shelton, 54 Denbigh Street
George HARRIS, head, Mar, 33, Stone Miner, born: Hereford, HEF
Jane HARRIS, wife, Mar, 32, born Hereford, HEF
James HARRIS, son, 4, born Hanley, STS

This would indicate that when his son was born, George had been living there. And more interestingly he was born in Herefordshire. Now one of the possible Alberts, Albert Benjamin ROWBERRY had married an Alice HARRIS. Here is their census entry:

RG11/2595 f93 p22
Herefordshire, Hereford St Owen, Bath Street
Albert ROWBERRY, head, Mar, 27, Miller, born Fownhope, Herefordshire
Alice ROWBERRY, wife, Mar, 24, born Allensmore, Herefordshire

As I do not have their marriage entry I did not know who her father was. The banns for their marriage were published at Fownhope in 1873; she was a "spinster of this parish", and he a bachelor of St Peter's, Hereford. The marriage took place in the Abergavenny Registration District according to the GRO indexes.

A check on the on-line IGI (Family Search) revealed the following entries:

Alice HARRIS, Baptised 28 Dec 1856, Allensmore, daughter of James & Lucy HARRIS
George HARRIS, Baptised 16 Mar 1848 Allensmore, son of James & Lucy HARRIS
There were also several more children baptised to them there, including James, baptised 6 Apr 1845.

Here are James and Lucy on the 1881 census index:

RG11/2588 f100 p20
Herefordshire, Allensmore, Winnal Common
James HARRIS, head, Mar, 64, Agricultural Labourer, born Kenderchurch, HEF
Lucy HARRIS, wife, Mar, 57, Agricultural Labourer's wife, born Much Dewchurch, HEF
Charles HARRIS, son, Unm, 22, Agricultural Labourer, born Allensmore, HEF
Margarett HARRIS, dau, Unm, 20, Domestic Servant, born Allensmore, HEF


Their son James was also living in the same street as George in 1881:>

RG11/2724 f101 p52
Staffordshire, Stoke Upon Trent, Shelton, 60 Denbigh St
James HARRIS, head, Mar, 36, Stone Miner, born Allens Moor, HEF
Mary A. HARRIS, wife, 29, born Newcastle, STS

Returning to the IGI gives:
James HARRIS married Lucy SAYCE, 12 May 1842, Allensmore.

That immediately got my attention as Albert Benjamin ROWBERRY's mother was a SAYCE, and he was named after her father Benjamin, who had been baptised in 1797 at St Devereux (this information I already had from someone researching that line).

So I looked for Lucy's baptism on the IGI and came up with:
Lucy SAYCE, Baptised 7 Sep 1823, St Devereux, daughter of William & Alice SAYCE
And on checking the earlier baptisms at St Devereux, yes Benjamin and William were brothers!

Thus George HARRIS and Albert ROWBERY were not only brothers-in-law but they were also second cousins. So I would imagine that the families had grown up quite close to one another. There were certainly other cousin marriages amongst their families. From the estimated date of the Loving Cup I would assume that it had been a wedding present from George on the occasion of Albert's marriage to his sister in 1873.

Sadly Albert and Alice did not have any children, and I wondered how the cup came to be where it was. I wrote this information up and sent it to the person that I bought it from, hoping that he would know some of its intermediate history. His reply was "the only knowledge I have is that it came from a house clearance in Tonypandy, Rhondda about 10 years ago, and was sold into the [antique] trade about 9 months ago". He further informed me that there were two more pieces. "A glass jug and a glass bearing inscriptions 'James Harris 1888' and 'Annie Harris 1888', probably marriage gifts". Not being an expert on the HARRIS family I have yet to work out where these fit in. They might however give a clue to where they have been.

If you can add anything please click here to email me: Polly Rubery.
Many thanks.


URL=http://www.rowberry.org/mug.html
Last revised: 1st October 2001
© Polly Rubery 2000