Medwam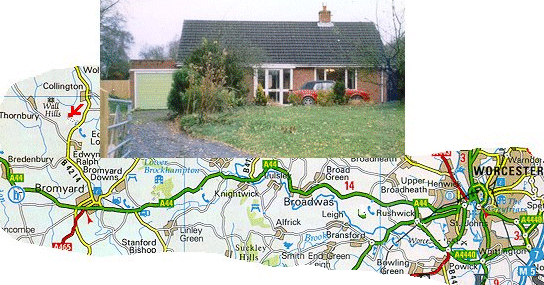 The name Medwam came from the first owner of the bungalow, one Wilson Arthur Meddings. His son is researching their family history and discovered that his great grandmother was Fanny ROWBERRY. This is where I came into the story...
To find me follow these directions:
Exit M5 at Junction 7 towards Worcester.
At next roundabout turn left, and take the bypass following signs for A44, to Leominster.
At Bromyard turn right, and follow the signs to Tenbury (B4214) to go through and out of the town.
After passing the Edwyn Ralph sign, take the next turning left, signed "Village Hall".
Carry on down track to the bottom of the hill, and Medwam is on your right. The gateway is not visible as you approach it, but the new, big, wide field-entrance on the other side of the lane is. Also if you start to go uphill again you've missed me!

URL=http://www.rowberry.org/myloc.html
Last revised: 9th November 2000
© Polly Rubery 1999