The RUBERY Family of Shropshire
This tree shows the descendents of James ROWBERRY and his wife Sarah JONES, who married in 1866 at Evesbatch in Herefordshire. Sarah had been born in Bromyard, but had been living on the Shropshire/Staffordshire borders with her family and the couple returned there after their marriage to live at Trysull. Sadly all of James's children died as young infants, however Sarah did have some children who survived to adulthood. The father of the two youngest was Samuel RUSSELL, and their birth certificates both give their father as Samuel RUSSELL and their mother as Sarah RUSSELL, maiden name JONES. However it seems from Sarah's death, which was registered as Sarah RUBERRY in 1884, that the couple were never married. At some point the two boys began to use the surname RUBERY. When Harry married he gave his father as "Samuel Russell RUBERY". It took me several years to solve this mystery, and I was set off on the correct trail by an email from Roger Boswell whose JONES ancestors included Sarah in their family.
However recent developments showed that Roger's email had only started me off on the correct trail, as an email from James Phillips-Evans, who was researching a Herefordshire couple called James & Mary GWILLIAM showed me that I needed to prune this tree and part of the Humber branch above it from ROWBERRY Tree Three and place it on another tree. His research showed that the Mary ROWBURY who married James GWILLIAM at Wacton in 1806 was, according to the 1851 census born about 1784 in Humber, leading to the deduction that she was the Mary ROWBURY baptised there in 1785. As I was able to find Mary GWILLYM's death in 1858 aged 74, I agreed with this and so I have grafted it onto ROWBERRY Tree One.
Taking the Mary baptised at Ocle Pitchard in 1774 as this Mary does make sense as at the time that she was having children baptised in the neighbouring parish of Much Cowarne, so was her elder brother Richard. So this graft has taken.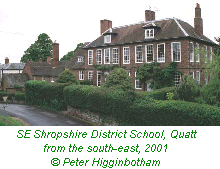 But returning to the two boys, they both appear with their parents as RUSSELLs in the 1881 census, living at Pattingham, Staffordshire, part of the Seisdon Union. By 1891 both parents were dead. Thanks to the 1891 census index when it first appeared online at Ancestry.co.uk I was able to find the two boys as RUBERYs. They were inmates of the South East Shropshire District School. The 1844 Poor Law Amendment Act made provision for Poor Law Unions within a fifteen mile radius to set up a School District and to erect a joint school for the accommodation and education of pauper children away from the workhouses. The South-East Shropshire School District was one of the few such bodies set up under this Act. It operated a school at Quatt which dated back to around 1700. This information and the photograph is taken from the The Workhouse website of Peter Higginbotham, to whom I am very grateful for granting me permission to use them.
The 1863 PO Directory entry for Quatt says: "Here is the south-eastern Shrorpshire district school, for the reception of children belonging to the several unions of Bridgnorth, Cleobury Mortimer, Madeley, and Seisdon, capable of accommodating 220 children."
A description of the School which appeared in Bagshaw's Gazetteer of Shropshire 1851 describes "the benefits derived by the children, who are here removed from scenes of inferiority and degradation and brought up in habits of industry ... the boys are employed in the cultivation of the land, in the management of cows, pigs, and a pony".
It seems to have worked in this case as both boys are employed on farms in the 1901 census, one as a Cowman and the other as a Yardman (ie looking after cattle).
These are large image files and may take some time to download. If you are having problems viewing this tree please click here.
Please use your browser's scroll bars to navigate the tree. Scroll to the right to locate the key; click on the coloured box to move to the next section of the tree.
If you can add or correct anything please click here to email me: Polly Rubery.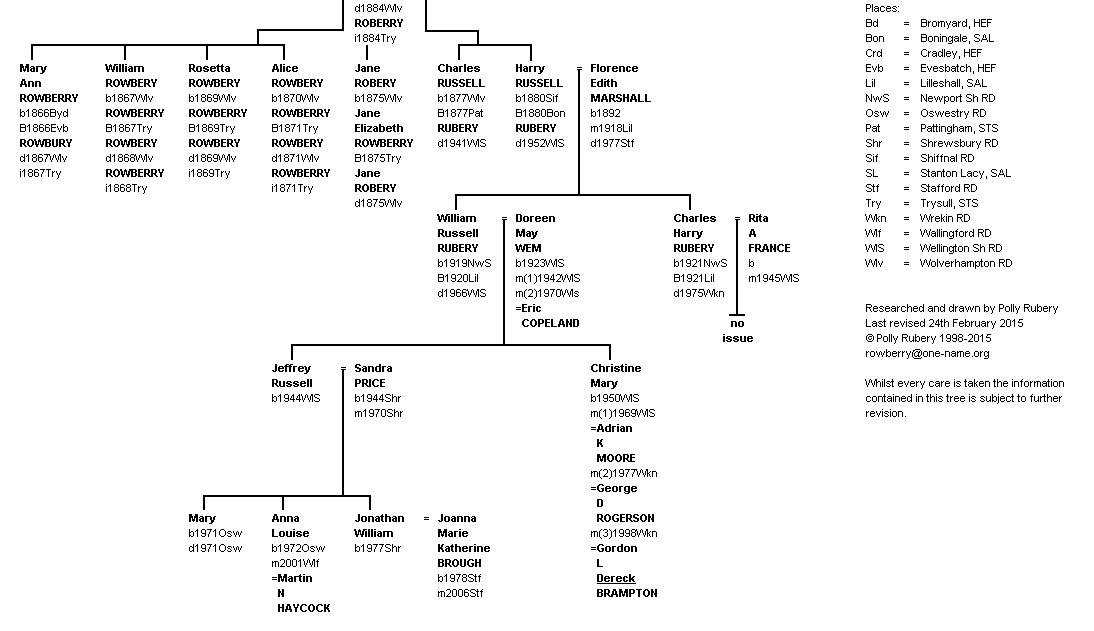 URL=http://www.rowberry.org/r1sal.html
Last revised: 18th May 2015
© Polly Rubery 2000-2015