ROWBERRY Tree Five Overview
ROWBERRY Tree Five links together The ROWBERRY alias GOMERY Family (which contains my own line of descent as The RUBERY Family of Bristol) and The ROWBERRY Family of Lugwardine. The y DNA project shows that these two families share the same ancestors, but so far even concentrated documentary research has failed to show a documented link. It seems possible that the John & Mary on my tree might have had a son John of theright age to become the progenitor of the latter, and for the moment that's how I have displayed the link. But please make sure that you realise that this is only a suggested possibility and the actual link could be much further back in time. So besides RUBERY and ROWBERRY we also have the three variants GOMERY, GUMERY and GUMMERY on this tree. This overview shows the different tree branches which comprise the overall tree, together with their file names and dates of latest revision.
This is an image file and may take some time to download. If you are having problems viewing it please click here.
Please click on the coloured boxes to move to that branch of the tree, or the DNA Kit numbers to take you to the DNA Project results. To return here please use the return button at the foot of each tree page (or your browser's back button). The links at the foot of this page take you to pages with additional information on certain branches of this tree. You will also find corresponding links on those pages.
If you can add or correct anything please click here to email me: Polly Rubery.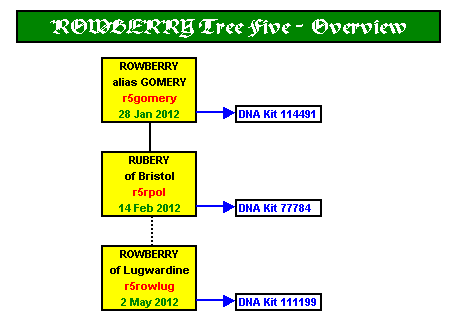 The story of my research into my own family. This is what started my One-Name Study, when I found I had been researching families that didn't fit!

Click here to follow a day trip in which Polly Rubery and her cousin Sheila visit the roots of their family tree.

URL=http://www.rowberry.org/r3tree.html
Last revised: 10th May 2012
© Polly Rubery 2012