The USA ROWBERRY Family
So far all of the ROWBERRYs and ROWBERRY descendents that I have contacted in the USA have descended from one family. In Canada I have discovered some from other lines, but in the USA that pleasure still awaits me. So far I have no success in discovering if William (baptised 1838 in Bishop's Frome, Herefordshire, England) had any descendents or not so I cannot say if any ROWBERRYs closely related to this family remain in England. It is possible that William took his stepfather's name when his mother remarried, but in 1851 he was living with his GUEST grandparents so this is not very likely. It is possible that there are descendents in the female lines, but I am not yet aware of any.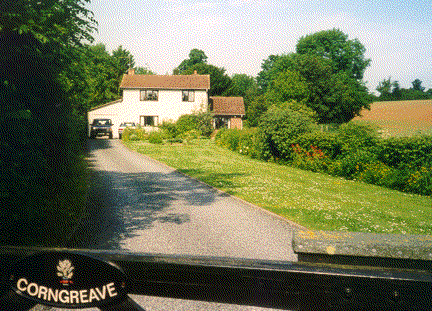 Emigrating to America
In 1840 this family was one of many who heard the preaching of Mormon missionaries in the English countryside. Bishop John ROWBERRY was baptised at Fromes Hill on the 21st June 1840 by the first missionary to reach Herefordshire, Wilford WOODRUFF. These missionaries exhorted them to join their brethren in establishing a new Zion in America. The ROWBERRY family was one of many who set out with high hopes as pioneers to the New World. John and Mary (née PARRY) ROWBERRY left England sometime after June 1841, because at that time they are to be found living at Southfield Orchard, Catley, Bosbury, Herefordshire in the census (the picture shows their cottage as it is today), and before 1844, when both of them died within a short space of time in Nauvoo, Illinois. Their children, who had accompanied them to America, were amongst those who were driven out of Nauvoo and undertook the Great Trek across the Plains to Utah. Here they helped to found Tooele, where the name is still to be found. Two of their sons (Thomas and William) went to St Louis, Missouri where they married. Thomas later came to Utah; William remained in St Louis where he raised a family.
Tooele, Utah
John ROWBERRY soon became a prominent citizen of Tooele and held many positions of responsibility both within the Mormon Church, where he became a Bishop, and in the civil legislature. His first wife, Hannah JENKINS (née BARBER) died in 1852 after bearing him four children. John then married three more wives, Mary Ann TOBIAS (née GOLLAHER), her sister Harriet Frances GOLLAHER and finally in 1870 Charlotte CLARK. These wives were married in plurality, as was at that time legal in Utah and encouraged by the Mormon Church. It is interesting to contrast this position with that then pertaining in England where it was illegal to marry your dead wife's sister (although it often happened!). Between them these three wives bore him a further 23 children.
Mission to England
On 14th November 1876 John ROWBERRY sailed back across the Atlantic to England to serve a mission there, arriving in Liverpool on the 26th of the same month. He served in the Birmingham Conference, which at that time covered the counties of Hereford, Worcester, Northampton, Warwick, Stafford and Shropshire. In letters home published in the Deseret News he describes the conditions that he found at the time as worse than when he left; trade being slack and there being much depression in business, with many out of employ. A letter dated 1st May 1877 describes his visit to Hereford:
"On the 4th of April we started on a tour of Herefordshire, parts of Worcester and Warwickshire. Herefordshire being the birthplace of the Bishop (Rowberry) this visit having been deferred until the present, thinking to have fine settled weather. Our first halting place was at Stoke Salt Works noted for the manufacture of salt, supplying a good portion of England and other nations with this commodity. The brine is pumped from wells 1,000 feet in depth, and is very strong, three pails full (of brine) making one (pail) of Salt.
"Next day we went to Worcester. The principal industries here are the manufacture of chinaware and gloves. We met a few Saints residing here and encouraged them to renewed zeal. We visited the old time cathedral which was built in the year 957AD, and were conducted throughout the interior by the Dean, taking notes of interest to its grandeur of decoration and magnificent furnishings. No skill or expense has been spared to make it attractive.
"We took the train early next morning for Malvern, a place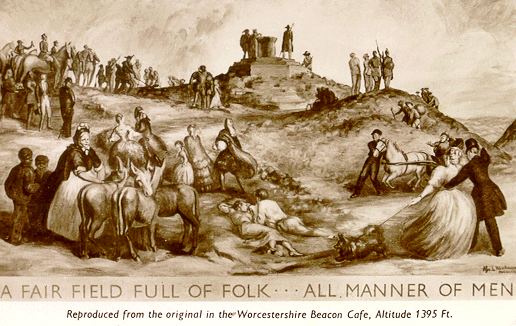 of resort for the pleasure seekers and aristocrats of England, claimed to be a very healthy retreat, in consequence of its altitude. Through the summer season large concourses of people are seen ascending the heights in various ways, on donkeys, in low-wheeled carts or carriages drawn by them, or in baskets carried on either side of them, a complete outfit, according to fancy being readily procured. After refreshing ourselves, we took a stroll up to the heights arriving on the summit about 5 p.m. April 6th, which according to the difference of your time and ours here, you being seven hours later than us, brought it near 10 a.m. of the same day, or near the time of the opening of conference at St. George. While there, in a secluded spot, we bowed in prayer to the Almighty invoking His blessing upon his servants during Conference, and upon the Kingdom of God generally and all its interests, not forgetting the Branch, Council and Saints of Tooele, our loved ones at home, and ourselves, that we might be able to do our duty faithfully while here. We stopped all night at Malvern.
"The next day we walked five miles to Ridgeway Cross where we held meetings twice the next day which was Sunday, this being the place and the same house where Brother Woodruff held meetings thirty seven years ago. We had a crowded house at both meetings, the Saints and some strangers coming for a considerable distance, notice having been given that we should be there. The blessing of the Lord really attended us in our assemblies, a number expressing themselves convinced of the truth, and wishing to identify themselves with the Church at an early day.
"We next traveled four miles to Fromes Hill and visited the place where I (John Rowberry) was born and where I heard the Gospel and was baptized. These circumstances of course make the remembrance of those places dear to me.
"Everything seems strange and somewhat contracted from what I had expected to find it. This is a land of cider, but it is generally sour, and while I will not deny this is my birthplace, it is not home.
"We made a visit to Bishop's Frome and procured from the records what genealogies I could of my ancestors. I found a great many former acquaintances lying in the church yard.
"We conveyed in a trap to Ashperton and took the train for Hereford visiting and preaching to the Saints in that place. We called upon John Adams' brother who treated us very well. In this and other places we have visited we found intense excitement in regard to Utah affairs. We did our best to disabuse the minds of the people in relation to the false statements made concerning the same and were generally successful. We also visited the cathedral here which is amongst the oldest buildings in England. The principal industries here are skin dressing and gloving.
"We returned by way of Ledbury, Bosbury and Hamish Flome to Ridgeway Cross, holding two more meetings in crowded houses and attentive audiences. Thence by way of Malvern, Upton, Naunton, Defford and Worcester, to Stoke, visiting the families of the Saints in those places. Next by way of Burnt Green [Barnt Green], Studley and Astwood Bank. We met with a few Saints residing there; and in the adjacent neighborhood, we had a very good meeting and a general time of rejoicing. Astwood Bank and Redditch are noted for their large needle factories, exporting their products to all parts of the world.
"April 30th we walked three miles to Redditch and took the train for Birmingham, arriving there at 12:20 p.m., after an absence of twenty seven days, having traveled by rail 120 miles, and near 100 miles from village to village on foot, and through the blessing of the Lord having been able to comfort and cheer up the Saints and convince quite a number of the truth of the Gospel. Everywhere, both among the Saints and strangers, where we visited, we were received and treated very kindly, they expressing their desires that we should soon return, which we intend to do and open up new places for preaching where meetings have not been held for years, as there seems to be an increased desire to investigate the principles (of the Gospel).
"We find quite a number of both Saints and outsiders who have friends in the valley, who have promised to write to them, but (they) have not heard from them in years. I think it would be good if any have friends here to write to them and give a statement of facts as they exist, as many think there is some truth in the reports that they are under bondage and dare not write. Of course where we go we correct that idea, but there are many impressed whom we do not see.
"In traveling around amongst the people of this country and seeing the distress that exists among the working classes, the tyranny and bondage under which they have to labor, and their burdens increased upon them from year to year, we have to exclaim, 'oh, how thankful and grateful to God, the Saints ought to be, that they are located in the valleys of the mountains for the peace and plenty that surround them, and for the liberty they enjoy more than in any portion of the world besides!' There is nothing at present, in viewing the aspect of the future to the working class, but poverty and distress, which stare men in the face. Trade of every kind is at the lowest ebb, and some establishments have entirely stopped, throwing thousands out of employment.
"Provisions are exorbitant in price and daily on the rise, caused partially by the impending war, and the cry is, 'What will become of us all ?'
"The anxiety of the Saints to gather is intense, some feeling they have neglected times when they might have gathered, but now there is no particular prospect for them, unless they are assisted. If any have friends they could help, it would be a great blessing unto them."
Return to America.
On the 27th June John ROWBERRY left Liverpool on the SS Wisconsin in charge of a company of Saints numbering in total 714. He was soon back in Tooele taking part once again in public and church life. He died on 4th April 1884 and such was the respect that he was held in that his funeral cortege consisted of 61 carriages. Today his descendents have spread out all over the United States, and with the help of Linda AMES, who is herself one them, I have started to build up a family tree for those still carrying the ROWBERRY surname. Between us we are also compiling a gedcom containing all the descendants we have discovered, of whatever surname.
To find out more about her family, visit Linda's Web Page
To find out about the gedcom; to add to it or to the family tree or to make any corrections, please send an email to me at: rowberry@one-name.org.

To view the USA ROWBERRY Family tree click here.

To see some of the places mentioned above click here.

URL=http://www.rowberry.org/usarow.html
Last revised: 11th January 2010
© Polly Rubery 1999-2010