Joseph and James - two orphans of Bromyard
T he quest for Joseph Neal ROWBERRY began in earnest after Nicky Rowberry received a letter from his great-grandson, Iain Fraser Alexander ROWBERRY of Longniddry, East Lothian, Scotland in June 1996 stating that Joseph had been "orphaned and lived in an orphanage in Bromyard, Herefordshire. At the age of 14 -15 he was sent to work on an estate which he didnít enjoy and ran away to Barnsley to work in the coal mines. Whilst working there he heard about the Preston Grange Coal Mine being opened at Prestonpans, East Lothian and moved up to that area, where he later met and married Isobel FRASER and had eleven children."
On a visit to the Scottish GRO in 1982 I had discovered details of his marriage, death and the births of 11 children to the couple. There was also a death for a twelfth child, William Neon, aged 18 months in 1892. Because you are allowed to look at the original registration details in Edinburgh, without having to pay for a certified copy, I was, during the course of my weekís visit, able to build up an extensive tree for the family descending from Joseph and his wife.
His marriage and death registrations both gave the same details. His father was William ROWBERRY, carpenter and his mother was Mary ROWBERRY, maiden name NEAL. The ages quoted both pointed to a birth year of 1863. Search as I might I had not been able to discover a marriage for his parents, nor a suitable birth for Joseph, so there the matter rested for 14 years, until Iainís letter again renewed my interest in the search.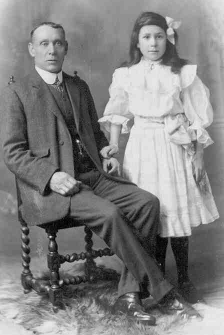 The first question I asked myself was there any connection with a James Nean ROWBERRY? The photograph shows James Nean with his youngest daughter Lilian Mona, born in 1898 and was sent to me in 2002 by his great grandson Terry Reeves. James Nean had married in the Grantham Registration District of Lincolnshire in 1883. Again there was no likely birth registration for him. Perhaps they were brothers? So the first thing that I did was to purchase his marriage certificate. This gave his age as "full", his occupation as groom and his father as Hugh ROWBERRY, Farmer. All this did was add to the puzzle, as I had no Hugh ROWBERRY who fitted at all. There was a series of births that seemed as if they might be his children. The first two were registered in the Grantham RD, the third, a Victor Nean, in Lichfield and then followed a series of births in the Warwick RD. Victor later married in the Warwick RD. So I also ordered the birth certificate of Ida Frances. She was born in 1890, and I hoped that the address would lead me to the correct place for the 1891 census.
In the event it did. The family was living at Kenilworth. James was said to be 31, born in Scotland, and was a coachman. By this time the 1881 census for Warwickshire had been indexed and on it I had found a James ROWBERRY, aged 21, Coachman, born at Grendon Bishop, Herefordshire. This began to ring bells. In Grendon Bishop I had a Thomas ROWBERRY marrying a Sarah NEAL, widow, in 1857. Was there a connection here?
The only way to advance this theory was to pay a visit to the Herefordshire County Record Office. Amongst other things I searched the remaining records of the Bromyard Union Workhouse, the nearest thing to an orphanage at that time in Bromyard. Grendon Bishop was also one of the parishes making up this Poor Law Union. Here I hit what I felt was the answer! In 1861 the Admission and Discharge Book recorded on Monday 7th January the admission of a Sarah NEAL, chargeable to the parish of Grendon Bishop. The "cause of seeking relief" was listed as "pregnancy". Her condition was described as "clean".
On the 21st March the arrival of "NEAL", chargeable to Grendon Bishop, born in the house to Mary NEAL was recorded. On April 28th "Mary NIEL and James her child", chargeable to Grendon Bishop were discharged, "by notice of the mother". A note adds "came in by the name of Sarah". The column headed "observations on general character and behaviour in the workhouse" records that she was "well conducted".
A check of the 1861 census showed Mary and James NEAL in the Workhouse, which was situated at Linton, Bromyard. She was 18, unmarried, "late general servant" and born Grendon Bishop. He was one month old and born in the Workhouse.
Sadly the Admission and Discharge Book for the period covering 1863 was missing, so I could not check for Joseph's birth in the same way. However a Joseph NEAL did feature later in a subsequent surviving register. On August 21st 1873 a group of five boys were "changed from class 4 [diet] to class 5 [diet]" and as such merited a discharge and re-admission entry. The whole accounting system of the Workhouse was based on the very strict diets laid down. One of these boys was Joseph NEAL. It gave his date of birth as 1864 and said that he was chargeable to Grendon Bishop.
On 19th October 1875 his name again appears in the discharge column. After breakfast he was "sent on trial to Mr SMITH of Washcroft". On 6th December he was readmitted. This time he was said to have been born in 1860, and admitted from Linton parish because he had "returned from service". The next time his name appears is on 31st May 1876 when he was "sent on trial to Mr HEMMING of Lower Sapey with a view to being apprenticed by order of the Board". The Minute book of the Board of Guardians for the Bromyard Union was indexed at this time and under NEAL appears the following entry:
"Ordered that Clothing for Joseph NEAL on his leaving the Workhouse and going to service with Mr John HEMING Shoemaker of Upper Sapey to the amount of £[blank] be allowed and It was also Ordered that enquiries should be made as to the residence of his Mother in order that she might be called upon to consent to his being put as an Apprentice to Mr HEMING"
On the 23rd October a further entry reads:
"The Clerk further reported that the boy Joseph NEAL had run away from the residence of Mr HEMING of Sapey Lower when the Porter went to fetch him back to the Workhouse"
Was this when Joseph ran away? Apparently not, as on 11th November 1876 he was readmitted to the Workhouse. He is described as a labourer by occupation, born 1862 and the reason given is "Brot[sic] by Mr HOLSOP at 8pm from a Mr BIRDís of Tedstone having absconded from his former place"
After this point the Books of the Workhouse are again lost, so it is not possible to learn when he actually left the area for good.
The 1871 census lists Joseph NEAL in the Workhouse, aged 7 and a scholar born at Linton. There are no other NEALs in the Workhouse at that time. Further searches of the surrounding area revealed James NEAL at Bredenbury Mansion, Bredenbury, the residence of William Henry BARNEBY, a Magistrate and Landowner. The name of the family is still preserved in the village in the name of the "Barneby Arms Hotel". James NEAL was said to be a boarder, aged 10, born at Bromyard. Although his occupation was given as "scholar and boarder" it is likely that he had also been placed here by the Workhouse and would have been expected to work in return for his keep and any schooling that he received.
When I returned home I was able to find Sarah NEALís first marriage. She was Sarah PARRY the daughter of John PARRY, a farmer. Later I found her baptism on 21st March 1821 to John and Elizabeth PARRY at Pencombe. Her husband was Thomas NEAL, a labourer, son of James NEAL a shoemaker. The marriage took place at Hatfield, Herefordshire on 28th February 1843, where they were both said to be resident. Their daughter Mary Ann NEAL was born at Thornbury on 26th June 1844 and baptised there as Mary Ann NEILD on 4th July 1844. In the 1851 census Sarah and her daughter are both in the Bromyard Union Workhouse. Sarah NEIL is said to be married, 29, a pauper and general servant, born Pencombe and her daughter Mary NEIL is aged 6, a pauper and scholar, born Netherwood. Netherwood is in the parish of Thornbury. A further entry that I had noted in the Union records was for Sarah NEIL and Mary her child being discharged on 28th July 1853.
The index for the Herefordshire 1851 census reveals only one Thomas NEILE, an unmarried agricultural labourer living at and born in Kempley, actually in Gloucestershire. It is more likely that Sarahís husband would have been over the border in Worcestershire, only a field or two away from Netherwood. However the 1851 Worcestershire Census Index does not reveal any likely candidates either. The 1851 census was added to the Ancestry UK Census website at the end of October 2005, and I thought this might locate Thomas. So far though it hasn't, although there is a James NEALE, Cordwainer born Bosbury, HEF and living in Claines, WOR, who might possibly be his father.
But searching the GRO indexes for a possible death for Thomas, I found what appeared to be a promising entry in the Bromyard Registration District in 1849, so I ordered the certificate. It was not an adult but a child aged three years, who had died in the Bromyard Union Workhouse on 5th June 1849. The cause is described as "Unknown" and Thomas is said to be the "Son of Thomas NEAL, Labourer." The parish register for Bromyard gives the burial of Thomas NEALE as taking place there on 8th June 1849. His abode is given as "Workhouse, Stoke Lacy" indicating that although he was in the Workhouse he had come in from the parish of Stoke Lacy. There is no admission entry for Thomas in the Union Workhouse register back to Christmas 1845, so it is possible that he was brought in sick and died shortly after. I searched the parish registers for Stoke Lacy for his baptism, and also several surrounding parishes, without success. On a subsequent visit to the Herefordshire CRO I was searching the Edwyn Ralph parish registers for someone else when I found it. He was baptised there on the 13th September 1846, the son of Thomas and Sarah NEIL. Thomas was described as a Labourer of Ganderlands, a farm in the parish.
Recently on another trip to the Herefordshire CRO, when I was searching the Bishopís Transcripts for the parish of Bockleton, Worcestershire (again for someone else!), I found the baptism of William NEAL. He was the son of Thomas NEAL of The Pound, Labourer and Sarah. He was baptised on 14th June 1845 and buried on 19th June 1845. At the moment I am helping the Herefordshire Family History Society to index the registers of marriages, births and deaths at the Bromyard Registrar and found the death registration, it was registered by Thomas NEAL. The Pound was in the part of Bockleton, called Hampton Charles, which lay within the boundaries of the County of Hereford and the Registration District of Bromyard. Perhaps I will discover what happened to Thomas senior as the indexing progresses, although so far nothing has emerged!
However it would seem that Thomas NEAL senior had either died or been missing for over seven years when Sarah NEAL married Thomas ROWBERRY on 14th February 1857 at Grendon Bishop. They had a son Thomas born shortly after their marriage, baptised on 7th June 1857 at Grendon Bishop. Sadly he died in 1864, followed by his mother in 1870 and his father in 1880. All three of them are buried in Grendon Bishop churchyard.
As yet I have not searched the later, unindexed Minute Books for the Bromyard Guardians to see if they were able to find out what happened to Mary NEAL, but thanks to the census indexes on the Ancestry UK census website, and the ongoing HFHS indexing project I have now solved this mystery. In 1866 she had a further child in the Bromyard Union Workhouse. Named Lucy she was born on the 7th March and died there on the 4th April. In 1869 she had another child, born this time in Hereford and called Lilley Ann, whose father was Richard SIRRELL a Blacksmith baptised at Stoke Prior, HEF in 1834. By 1871 they are living at 24 Darkhouse Lane, Sedgley STS, with Lillyann and a son Arthur, aged two months. In the 1881 census they are living at 11 Bayley Street, Tipton with children Lilleyann, Albert, Lewis and Ernest; in 1891 they are at 1A Grove Street, Wolverhampton with children Lilian, Albert, Lewis and Clara and by 1901 they are at 15 Dalkeith Street, Walsall. Mary Ann's death was registered in the September quarter of 1921 in the Walsall Registration District. It seems unlikely therefore that she had any further contact with her two NEAL children, hence their belief that they were orphans.
But returning to Joseph NEAL in order to tie him in I purchased his birth certificate. He was born at the "Union Workhouse, Linton" on 8th January 1864 the son of Mary NEAL. Then I purchased the birth certificate for William Neon ROWBERRY who had been born in the Tynemouth RD, again hoping that this would lead me to the family in the 1891 census. He was born in Gosforth Row on the 26th February 1891 and there in the 1891 census was Joseph ROWBERRY, aged 27, Coal Miner, born Bromyard, Herefordshire, and his family. The 1881 census is now totally indexed and searchable on CD-ROM and the Internet. Try as I might I have so far not been able to locate Joseph on it under any name.
The weight of this evidence I think proves that James and Joseph NEAL were brothers who later took the names of James Nean ROWBERRY and Joseph Neal ROWBERRY. As it would seem that Joseph ran away from the care of the authorities he probably changed his name to escape detection. Does this mean that James also ran away? Perhaps he did, but we may never know for sure.
However what is known is that they both founded extensive families of ROWBERRYs, which have spread out all over the world. Descendents of both have been in touch with me, and have been able to add to my knowledge of their extended families. In return I have been able to solve the mystery of where they came from, although so far the name of their father, or possibly fathers, remains elusive.
To view the families of Joseph Neal ROWBERRY in Scotland and of James Nean ROWBERRY in Warwickshire, please click on the following buttons:




URL=http://www.rowberry.org/orphans.html
Last revised: 31st March 2008
© Polly Rubery 2000-2008