ROWBERRY Tree One - USA - St Louis
Showing an outline of the ROWBERRY Family of St Louis, Missouri with the ROWBERRY descendents of Bishop John ROWBERRY's brother William, who married Susan REILY in St Louis in 1850, and then Adelaine MAXWELL there in 1853. A letter written by John ROWBERRY's sister Ann dated 16 Aug 1869 says:
"I thought that I might get a letter from William, but I have been disappointed. It seems he is not intending to write to any of us any more. Poor Adaline I was sorry to hear of her death she used to write to us sometimes. I would like to know what has become of the children, it is a sad misfortune for them."
In the 1870 census for St Louis Charles and Cora ROWBERRY are living in the house of a David ADAMS, but no relationship is stated. The details of Charles's family are taken from the 1900 census. The family were living on John Avenue, St Louis. The marriages come from the records of the County Court for Missouri. Emma's date of death was found from her obituary in the St Louis Post Dispatch 17 Mar 1905.
When I first loaded this page on 22 June 1999 I said "I would very much like to make contact with any descendents of this family." On the 1st July 1999 I was contacted by Sandy Lee, the grand-daughter of Dorothea Anna ROWBERRY, the last child of Charles and Emma. Since then I have heard from Craig Rowberry, Lori Ataya and Gloria Bokamper, all of whom are descended from this tree. They have helped me to fill it out a little. More recently I heard from William John Rowberry, his wife Patricia, their grandsons Christopher and Brenden and their neice Renee and they have really helped me to fill out the picture. However I would welcome further contacts and help with it.
These are large image files and may take some time to download. If you are having problems viewing this tree please click here.
Please use your browser's scroll bars to navigate the tree. Scroll to the right to locate the key; click on the coloured boxes to move to the next sections of the tree.
If you can add or correct anything please click here to email me: Polly Rubery.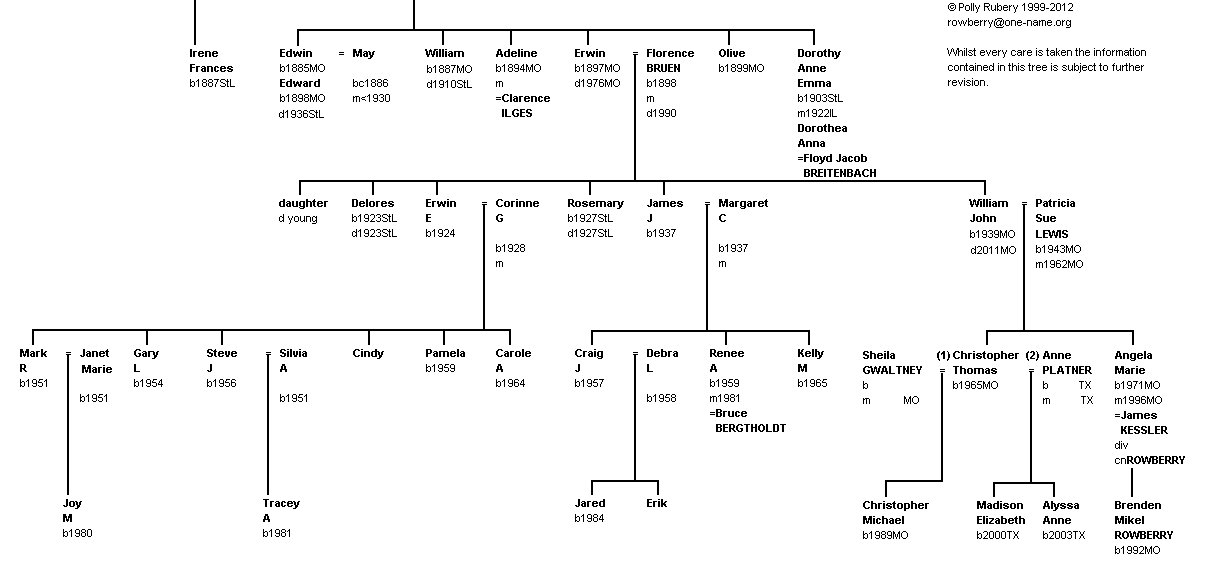 URL=http://www.rowberry.org/r1slouis.html
Last revised: 15th May 2012
© Polly Rubery 1999-2012