RUBERRYs on Ellis Island

T

he records of passengers on vessels entering the Port of New York between the years 1892 and 1924 have been opened up for easy searching on the Internet at a new Ellis Island website. This went online during April 2001 whilst I was staying in Washington with Linda Ames and she and I had great fun with it before its popularity made it impossible to access easily. Now the initial surge has been met it is much easier to use and I recommend everyone to take a look. Not just for emigrants either, most of the people I found did not remain in America. Besides the easily searchable database and a brief extract of the details of each person, you will find links to digital images of the original manifest and also details and pictures of the ships themselves where available. The small thumbnails on this page are taken from this source and clicking on them will take you to fuller details and a better picture.

The names that I had found on the website were to make a useful cross-reference for me when I actually reached the Family History Library in Salt Lake City, Utah and was able to check out the Soundex index to the records that they hold there. This is because the Soundex Index only covers the Alien Passengers on the ships (and later planes) whilst the website covers everyone found on each Ship's Manifest, including American citizens and members of the crew. The Soundex Index covers the years 1902 to 1943, so you can see that the two are not mutually exclusive, and it pays to check both.

All of the RUBERRYs that I found were members of the Cornish Family, except one. The earliest mention that I found was to Joseph Alfred (born 1874), who was listed as a passenger on the SS Trinidad which had sailed from Hamilton, Bermuda on 27 Jun 1903 arriving at New York three days later on 30 Jun 1903. He was described as 29 years old, single and a shipwright. He gave his last residence as Bermuda and said that he was enroute to England with his final destination being Penzance, Cornwall. He had not been to the USA before, had bought his own ticket and was carrying $80US. He was travelling with two other young shipwrights, William MORLEY (28 years 10 months old), who was returning to an address in Chatham and Benjamin John ROLING (33 years 7 months) returning to New Brompton. It is not known when Joseph Alfred left Cornwall to travel to Bermuda, but he was not single. His marriage by licence to Elizabeth Jane MILDREN was recorded at Porthleven on 13 Jun 1898, and shows him as a shipwright. The 1901 census shows his wife living with her mother and step-father at Breageside, Porthleven, together with their two-yeqr-old son, William Alfred. As Joseph does not appear in the 1901 census it may be assumed that he had left England by then. Two of his brothers (William Sydney and Samuel James) and a cousin (Thomas Austin) were also not in England at the time of the 1901 census.

In the 1891 census he is shown living with his parents at Sithney, Porthleven and is described as a boat-builder's apprentice, as is his brother William Sydney (born 1877). William Sydney appears as a passenger on the SS Trent that sailed from Bermuda on 30 Aug 1910, and arrived New York on 1 Sep 1910. He is described as 33, married and a shipwright born Penzance, England. His last residence is given as Ireland Island, Bermuda, where his wife is given as his next of kin. He is said to be going to visit his brother George at 2165 E Frith Street, Philadelphia, Pennsylvania. He is described as 5 feet 8 inches tall, with a dark complexion, brown hair and brown eyes. Just to make sure that he did not linger in the USA his entry is stamped "Non Immigrant Alien" and the final destination has been amended to "Bermuda, Ireland Island." He does not figure again as a passenger, but appears later as the father of other passengers, helping to build up the picture of the RUBERRY family of Bermuda.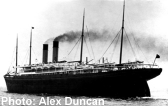 The next brother in the family to appear on these lists is Harry Norman (born 1886). He arrived in New York on 1 May 1907 on the SS Celtic, which had left Southampton on 20 Apr 1907. He is 21, single and a carpenter. He has a single ticket, which he bought himself, and his last residence is given as Porthleven. But he is not travelling alone but as a group of lads, all from Porthleven and all carpenters. They are Thomas Kitchen WILLIAMS (19), George Henry EDDY (24), Elijah GILBERT (21), William GILBERT (21) and Joseph Wilfred MINERS (20). Every one of them was also born in Porthleven. They all give their destination as Philadelphia, PA, which has been crossed out and amended to Camden, NJ; Harry gives no exact address, William GILBERT is going to stay with his brother John GILBERT and the others name various friends. Harry is described as 5 feet 7 inches tall with dark complexion, sandy hair and blue eyes.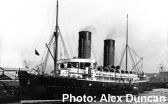 Harry arrives yet again on 6 Nov 1909 having sailed from Liverpool on the SS Campania on 30 Oct. This time he is accompanied by his brother George Vivian (born 1891), an annotation to that affect appearing on the Manifest. Harry is described as 23 and George as 18. They are both single, shipwrights, with their last residence given as Porthleven, Cornwall where their next of kin is given as their mother Mrs RUBERRY. Their destination is given as Philadelphia, where they are going to a friend, Ian GILBERT at 2309 E Lethesby Street. George has not been to the USA before, but Harry last left during 1909 from Philadelphia. George is described as 5 feet 11½ inches, with a fresh complexion, dark hair and grey eyes. Harry is 5 feet 6 inches with a fresh complexion, fair hair and grey eyes.

Harry Norman

makes yet another appearance, arriving at New York on 22 Jul 1912 on the SS Bermudian which sailed from Bermuda on 20 Jul 1912. He is described as 26, single, a carpenter, 5 feet 6 inches, with a fair complexion, brown hair and blue eyes. His last date of leaving the USA was given as 1912, from 2165 East Frith Street, Philadelphia, PA which is also given as his destination. I have yet to find Harry's marriage, so he probably married in the USA and had his first son there, before returning finally to live in Cornwall around 1915. George had returned by 1917 when he married in Cornwall, and Joseph also returned home at some point. It was only William Sydney who stayed and settled in Bermuda to found a new branch of the family.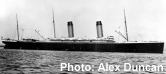 Although these are the only times these brothers are mentioned, their cousins John Mainor (born 1878) and Joseph Arthur (born 1880) also travelled to New York. John Mainor is normally called by his second name, and he appears as Manor RUBERRY, arriving on 29 May 1907 having sailed from Liverpool on May 22 aboard the SS Oceanic. He is described as 29, single, a carpenter, and is travelling with William GILBERT (23, married, also a carpenter) and Charles RANSON (23, married, a blacksmith). The two carpenters give their last residence as Porthleven, whilst the blacksmith comes from Gunvalloes. Their destination is said to be New York, with the address that they are going to given as Pittsburg, PA crossed out and Camden NJ added. From this it looks likely that they were going to join the group who had travelled only a month before them in April 1907. Mainor's physical description is given as 5 feet 6 inches, with a fair complexion, light hair, blue eyes and a cut on his cheek as a distinguishing mark.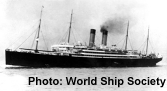 On 13 Apr 1913 John Mainor (now given his full name and described as 31, single, carpenter) arrived at New York once again, having sailed from Southampton on the SS Adriatic. His brother Joseph described as 26, single and also a carpenter accompanied him this time. Travelling with them were William Thomas KITCHEN (26, single, carpenter), Edith Kate RICHARDS (25, single, tailoress) and Mary Ann VICARY (28, married, housewife) and her daughter Harriet aged 9 months (occupation given as "baby"!). They were all born in Porthleven and all give that as their last residence, except John Mainor, who gave somewhere in the USA. Exactly where is difficult to see as "Non Immigrant Alien" was rubber-stamped over it, just in case anyone thought he was an American citizen! The two RUBERRYs give their next of kin in England as Mr J RUBERRY, (their father James); William KITCHEN gives Mr P KITCHEN; Edith Kate RICHARDS gives Mrs RICHARDS and Mary Ann VICARY gives Mrs JOY. All of them give the address Porthleven.
John Mainor is the only one who has been to the USA before, having been in New Jersey for three years from 1907 to 1910. His destination is given as "Home, 410 Spruce Street, Camden, N Y, and his brother and William KITCHEN also give this as their destination. Edith RICHARDS is going to join her brother, Norman RICHARDS at 2316 East York The VICARYs are said to be joining "Husband J VICARLY [sic]" at 2816 East York Street, Philadelphia, PA, but this has been altered to 418 Webster Street, Philadelphia. John's physical description is given a 5 feet 8 inches, fair complexion, fair hair and blue eyes and his brother Joseph is said to be 5 feet 5 inches, fair complexion, brown hair and grey eyes. Joseph had returned to Cornwall by 1913 when he married there, and John Mainor by 1916.
From the foregoing one can begin to build up a picture of young men (and sometimes women) travelling far away from their land of birth to seek work, often in the company of friends or relatives. However they also mange to keep in touch, paying visits to both home and relatives elsewhere in the world. It would seem that the First World War was the factor that brought some of them home. Eight RUBERRYs appear in the First World War Medal Rolls, and of these at least four, and probably five were from the Cornish family. Fred RUBERRY (born 1888) who had gone to Canada was one of these as he returned home to enlist, his wife not giving her permission for him to join the Canadian Forces! Two others belong to the London family, and one, or possibly two to the ROWBERRY Tree One family. In addition from the latter family Harry Delahaye RUBERRY (born 1888) served in the Canadian Expeditionary Force. All survived the War.
After the First World War the pattern of arrivals at Ellis Island begins to change, with aircraft arriving both from Europe and Canada, carrying passengers on short term business or holiday visits. Included in these are two of William Sydney's sons born in Bermuda. The first of these is Warren Archibald (born c1906) who makes several visits over the period 1930 to 1941. He first arrives at New York on 24 Feb 1930 on board the SS Fort St George that had sailed from Hamilton, Bermuda on 22 May 1930. By this time Visas are being issued to visitors and he has one granted to him on 26 Oct 1929 at Hamilton. The manifest makes clear that he had in fact paid a visit to the USA in 1929, although neither index that I consulted showed him arriving in New York before. Therefore it is probable that he came in through another port. He is described as 24, single, shipwright, with a height of 5 feet 8 inches, medium complexion, brown hair and blue eyes. He was born at Ireland Island, Bermuda, which is also his last place of residence, where his father, Mr William RUBERRY, is his next of kin. He is travelling to visit Mr Arthur ATWOOD, his cousin, who lives at 456 Willett Avenue, Port Chester, NY. In answer to the query about his intended length of visit he has replied "permanent - intends to become a citizen of US". However the Manifest is annotated "Not to be considered admission for permanent residence, see file 98959/524." Warren finally did get to live in the USA as his death is listed in the US Social Security Death Index as having occured in April 1979 and gives a last residence for him of Winchendon, Worcester, MA. His wife, Priscilla, is also listed as dying on 24 Jan 1999, her last residence is given as San Antonio, Texas. Both SS numbers were issued in Massachusetts.
On 17 Jun 1932 he again arrives at New York, this time as a passenger on the SS Monarch of Bermuda that had sailed form Hamilton on 15 Jun 1932. This time he is accompanied by his wife, Priscilla, aged 21. His description this trip reads, 27, married, boat builder, height 5 feet 8½ inches with a fair complexion, brown hair and blue eyes. Again he gives Ireland Island as his place of birth, starting point and final destination, and as where his father W S RUBERRY lives. He last left the USA from New York in 1930. Priscilla is a US citizen, and they are going to visit her mother Mrs C L SYMONS at Toy Town Tavern, Winchendon, MA. His intention this time is to spend six weeks in the USA. His next arrival entry says that they left the USA on 1 Aug 1932.
This next arrival was on 31 May 1934 at New York, again aboard the SS Monarch of Bermuda that had sailed from Hamilton on 29 May 1934. This time he is travelling alone, and he is described as 29, married, boat builder, 5 feet 8 inches, of fair complexion, with brown hair and blue eyes. His place of birth is given as Smith's Parish, Bermuda, and his last place of residence was Pembroke, Bermuda. His next of kin, father Mr W S RUBERRY, is said to live at Somerset, Bermuda. Again his destination is his mother in law, Mrs C L SYMONS, at Toy Town Tavern, Winchendon and his intention is to remain for six weeks. His wife must have travelled home at a different time, and her arrival is not indexed because she is not an alien.
On the 7 May 1940 Warren sailed form Hamilton to New York again on the SS President Roosevelt. This had 242 passengers who were all First class cabin and of whom 200 were US citizens. He was accompanied by his wife Priscilla and their son, also called Warren, aged 5. By now Warren senior is 35 years old and his occupation is described as a Revenue Officer, born Ireland Island, Bermuda. Both his wife and child are US citizens, and their date and place of birth is therefore given. Priscilla was born 26 Jan 1911 and her son 3 Jul 1934, both at Winchendon. The family's last residence is given as Pembroke, Bermuda, with Mr W S RUBERRY, father of Somerset, Bermuda as next of kin. Warren last left the USA in July 1934, from Winchendon. Because his wife and child are US citizens no such question was asked of them, so it is interesting to speculate when and how Priscilla arrived at her parents house for the birth of her baby. Her home is again their destination, Mrs C L SIMONS, mother-in-law, 54 Grove Street, Winchendon, MA, and two weeks as the length of their visit. Warren's height is given as 5 feet 8 inches, complexion fair with brown hair and blue eyes.

On 25 Sep 1941 Warren makes a new sort of landing onboard the Atlantic Clipper NC18604, belonging to Pan American Airlines. This transatlantic service using Boeing 314 flying boats had begun in 1939, and crossed the Atlantic Ocean in three hops. It left Lisbon, Portugal on 20 Sep; Horta, in the Azores on 24 Sep and Hamilton, Bermuda on 25 Sep. When it arrived at New York it had 52 passengers and 13 crew members. An interesting contrast to the plane that I flew from Newark to Montreal on - that had 50 passengers and 3 crew members! Warren is now described as 36 years and 6 months of age, weight 150 lbs, height 5 feet 8½ inches, fair complexion, brown hair and blue eyes. He was born Ireland Island, Bermuda, his residence is Hillholme, Paget, Bermuda and his next of kin is now given as his wife Mrs P RUBERRY. His last visit to the USA was in May 1940, when he went to Winchendon, MA. The purpose of his visit is for a vacation and he is going to his father-in-law, Mr C A SYMONS at 54 Grove Street, Winchendon, MA. He is travelling under a visa issued at Hamilton, Bermuda on the 8 Sep 1941, and the orignal entry says that he intends to stay 1 month. However this has been crossed through and 60 days added.
These last two entries typify the vast change in the type of passenger arriving at New York in the 1940s as compared to those arriving in the early part of the century. The last RUBERRY entry also typifies this later style of passenger, although her name appears on the manifest for the SS Fort Victoria which arrived at New York on 13 Sep 1923. It had left Hamilton, Bermuda on 11 Sep, but Mary was not a member of the RUBERRY family living there. She was a member of the RUBERRY Family of Maryland, and of an Irish origin, although she was actually born 1863 in Richmond, Virginia before her parents arrived in Maryland. Her address is given as Baltimore, MD and she is travelling with the DICKEY family also from Baltimore. Although the relationship is not specified (as US citizens there is not much information about them) it is likely that she was travelling as their nurse maid.

Read more about the history of this family and see their family tree.

Richard RUBERRY married in Cornwall in 1878. He settled in Idaho where his family now live.

The RUBERRY surname.

URL=http://www.rowberry.org/ellisis.html
Last revised: 25th February 2013
© Polly Rubery 2001-2013