The RUBERRY Family of Idaho

A

lthough I had noticed listings in the USA phone directories for the name RUBERRY in Idaho, it was not until I found the first reference to them in the US Federal census that I began to research them. Until then I had assumed that they were members of one of the other American families with an Irish origin. However the 1910 Idaho census showed that Richard E RUBERRY living in Mountain Home, Elmore Co had been born in England, as had his wife, Harriet. His age was given as 58 and hers as 50 and they were said to have been married for 31 years and to have come to the USA in 1880. Richard had been naturalised and he was a farmer, with a general farm, which he owned freehold. Checking my index showed me that there was a Richard born 1849 in Cornwall, and what is more he had married late in 1878, and I had no death registration for him. Neither had I found him in the 1881 English census.

On my next visit to London I ordered his marriage certificate, and this described him as a 28 year old bachelor, occupation wheelwright, living at Praze, Crowan, Cornwall. His bride was Harriet BETTENS, a 20 year old spinster. She lived at Kirthen Wood, Crowan and her father was Charles BETTENS, a farmer. Their marriage took place on 16 Dec 1878 at the Wesleyan Methodist Meeting House, in the District of Helston.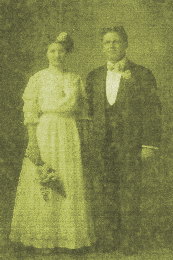 The 1910 census said that they had a daughter Ethel L, who was still living with her parents, aged 15 and born in Idaho. Boarding at a farm in nearby Cold Springs was a William RUBERRY, aged 26 and working on a stock farm. Although it would seem that he would be a son of Richard and Harriet I was puzzled by his birthplace of New Jersey, although both of his parents were said to be English.
Joyce Otterstrom, who had obtained the census copies for me from the Family History Library in Salt Lake City, searched the 1900 Federal Census Soundex Index for the family and could not find them. So I could not resolve this problem. By the 1920 census William, now 38, is married to Mazana R RUBERRY, aged 29, and he has two sons Wallace A, aged 8 and Forest C aged 6. He is a farmer and the family is living in a rented, shared property in Glenns Ferry. However later in the month William C RUBERRY was enumerated again, this time living alone at his own mortgaged farm in Cold Springs.
A search of the Internet produced the following marriages at the Western States Marriage Records Index:
Ethel E RUBERRY to Percy A PATCHING on 27 Feb 1910 at Mountain Home
William C RUBERRY to Mazanna R BLYTHE on 1 Jan 1911 at Glenns Ferry (see photograph)
Edith L to Edward M WILSON on 19 Jul 1914 at Mountain Home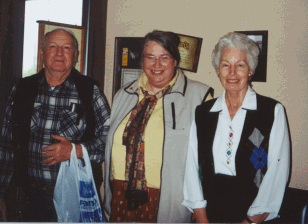 As the 1910 census had been taken in April, the unmarried daughter must have been Edith L and a mistake made with her name. The Internet also produced entries in the US Social Security Death Index for Wallace RUBERRY, who was born 20 Sep 1911 and had died on 8 Jun 1992 and Forest, born 29 Mar 1913 and died Jul 1972. Both were said to be "long-time or retired railroad workers."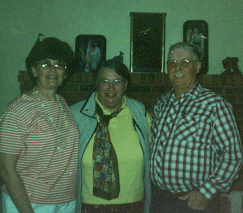 During the planning stage for my trip to the USA and the Family Gathering in Salt Lake City I wrote to all the Rs in the USA and Canada that I could find addresses for. Imagine my delight when I received an email reply from Chip RUBERRY of Idaho! He was Wallace's grandson and through him I arranged to meet his parents, Wayne and Kay, who still live in Mountain Home. When I rang Wayne to arrange the finer details he suggested that I ring his Uncle Rodney, whose existence I did not even know about! We also arranged to meet, and I am delighted to say that the first day that I spent in Idaho I had breakfast with one delightful couple, Rodney and his wife Clarice (first photo) in Meridian. And then the best Chinese meal that I have ever had in my life in the evening with another, Wayne and his wife Kay (second photo) at Mountain Home. After that I was taken on a tour of the area, ending up searching for graves in Glenns Ferry Cemetery in the pitch dark and being liberally watered by the sprinklers! Both of them were able to add to my family tree, and shared history and photographs with me.
The history of the family appears in Crossroads - A History of the Elmore County Area by Sandra Ransel and Charles Durand. (Elmore County Historical Research Team, Mountain Home, Idaho, 1985). It reads:
"Richard E RUBERRY and his wife Harriet R came from England in 1878, returned to England for a short period, returned to New Jersey and migrated to Mountain Home, Idaho in 1884, where he worked as a wheelwright. Their son, William Charles RUBERRY moved to King Hill, Idaho in 1925 where he worked for the King Hill Irrigation Co for 27 years. He and his wife, Rachel Mazie BLYTHE, who had come from Missouri to Hammett as a telephone operator, farmed and raised cattle.
"They had three sons, Wallace Abram, Forrest Charles and Rodney Howard. Wallace Abram RUBERRY was born on Cold Springs Creek 20 Sep 1911. He farmed until 1945, worked as a fireman on the railroad for 5 years and was Superintendant of Utilities in Glenns Ferry for 28 years. While attending school in King Hill he met Elsie Georgia HEATH, and they were married 23 Jul 1934. They have three children, Juanita L RUBERRY (CASE), Wayne E RUBERRY, and Allen B RUBERRY."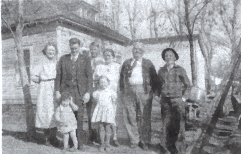 The picture shows Bill and Mazie with Wallace standing at the back and Rodney to the right of the picture. Wayne told me that Mountain Home had originally been called "Rattlesnake Station." The Stage Station had eleven rooms, with a large one at the back over the kitchen. When the railroad was built it moved alongside of it. When Richard and his family first came to the area they travelled by train to Pocatello and then Shoshone but completed their journey by wagon train. Whilst Richard earned his living as a wheelwright he also ran cattle on Bennett Mountain, and tended other people's cattle. His son worked for a banker called John McGUINESS in Glenns Ferry, but after becoming the secretary to the King Hill Irrigation District in 1925 or 1926 he acquired a lot of land around the King Hill area and ran cattle on it.
During the course of my tour I was taken to see the various properties that the family had owned, and was delighted to see that the road leading to one had been named "Ruberry Road." Unfortunately it soon became too dark to take many photos, and I had hoped to return the next day. This hope was not realised, as you will see. Also sadly the film that I had in my camera was faulty so the pictures that I did take came out a very funny colour! Sharron Grover, my chauffeur at this point, luckily took those of a normal colour on this page! She had lived in Mountain Home at one time, when her husband was stationed at the Air Force base there, so during the day we had relived some of her family history by visiting her old house.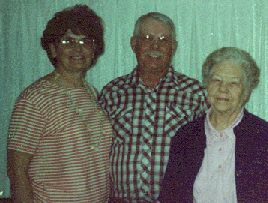 I was also privileged to meet Wayne's mother, pictured here with Wayne and Kay. It is with great regret that since then I have received the sad news that Elsie died on 20 Dec 2001.
The next day we had something slightly different on the agenda, but also with a Cornish and a RUBERRY link, albeit a rather more roundabout one. Many years ago I had been contacted by a gentleman called Claude WILLIAMS whose wife's name was Marie RUBERRY. She had been born in Cornwall, and was the granddaughter of Richard's elder brother, William John (born 1847). That makes her Rodney's second cousin. Claude wrote to me just before I left for my trip saying:
"The Cornish miners who went to Idaho did so because they were skilled in "Hard Rock" mining from the experience of mining in granite in Cornwall. They were in great demand. My maternal grandfather, Edwin VARKER, was killed in a mining accident at Blaine Mine, De Lamar, on my mother's eighth birthday in 1902. In researching [this family] I had considerable help from the Museum [at Murphy, Idaho]. I was able to send them a Delamar Miners Union badge which was unlike any other items they have and which is now a permanent part of their collection...Silver City, has, I understand, been rebuilt as a tourist attraction on the lines of the original mining town...my grandfather was buried in Ruby City Cemetery but the town no longer exists but the cemetery is still there."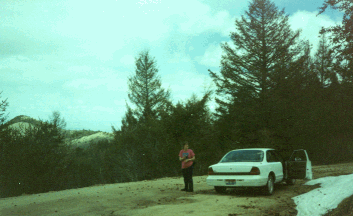 It was my hope to be able to visit Silver City and the Museum at Murphy to take some pictures for Claude. We set off across the Snake River Plain to where the road for Silver City turned off into the mountains. It started as a reasonable tarmac (paved to the Americans) road, but it had plenty of warning notices at the beginning! We should have taken heed! From tarmac it became gravel, and from gravel it became dirt. And it became ever narrower as it wound its way up the mountains. At one point we passed some workers busy working to clear some falls of rock from the uphill side of the road. This they were doing by pushing it over the downhill side! Eventually we began to find snowdrifts still lying at the side of the road and these eventually covered the road to a depth that was impassable to Sharron's car, which was definitely not designed for off-road use! At this point Sharron had to back down the road until it became wide enough to turn around in. I wisely decided to walk at this point, so that I could guide her back! (At least that was my excuse.)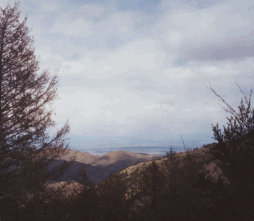 After admiring the view out across the Snake River Plain to the Sawtooth Mountains, which allowed our nerves to recover somewhat, we set out to retrace our steps. On the way down we stopped by a pleasant creek to eat our lunch. Further down I saw something which made me think of home, a group of Hereford cows grazing with their calves. Although we had come a long way down we were still high above the Snake River. The ground here is mainly covered in sage brush, as you can see. But the cattle all looked well so they must have found something more nourishing to eat in between!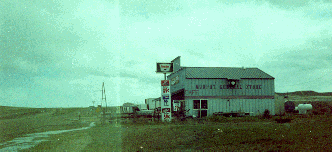 When we reached the proper road again we set out for Murphy. You can judge just how big it is from this picture of its general store and garage. We got there late in the afternoon to find that the Museum was only open one day a week, and today was not the day. We went into the County Hall, to enquire, and a helpful lady called Shirley Fuchs told us that the Sheriff had a key. After checking she discovered that there was no-one left in the Sheriff's Office. We told her what our interest was and how badly we were doing that day and she was able to give us some pictures that she herself had taken of Silver City, and produced as notelets. She explained that most of the buildings had been restored and that the hotel in fact did accommodate guests during the summer.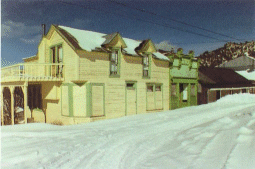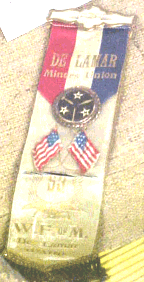 As to the medal she promised to take some photographs and email them on to us, which as you can see, she did.
So we set out on our long drive back to Sharron's home, it by now being too late to go back to the Glenns Ferry Cemetery. Once established in Shelley I was quick to take a chance to go to the Idaho Falls Family History Centre to see if I could find out any more about the early history of the family. By searching the 1900 census for Mountain Home I was able to locate Richard and Harriet RUBERRY in it. This gives his birthdate as Jan 1851 (he had obvioulsy "lost" a couple of years!), his age as 49 and said that he had been married for 21 years. Harriett was born Oct 1860, and was aged 39. She had had three children, all of whom where still living. They were said to have immigrated in 1884 and to have been living in the USA for 16 years. Richard was naturalised. At this time all three children were living with them; William C aged 19, born Aug 1880 in New Jersey and working as a farm labourer; Ethel E aged 10, born Mar 1890 in Idaho and at school and Edith L, aged 6, born Sep 1893 in Idaho. Although I had been told that Richard did not die until 1924 I searched the whole of the 1920 census for Elmore County without finding him. I did not add to my knowledge of the family during the time that I spent at the FHC, although I also visited it on another day, when I gave a talk there to the Snake River Family History Connection about the English Civil Registration system.
When I went to Salt Lake City I spent two weeks researching in the Family History Library there. Again I did not add much to my knowledge of this family, although I did find Richard and Harriett in the newly issued 1880 census CD-ROM index. Richard was a 28 year old carpenter, living in Randolph, Morris, New Jersey, with his wife, whose name is given as Addie, aged 22, "keeping house." On the first Sunday afternoon that I was there I searched the Bureau of Land Management's database of General Land Office Records and found that Richard E RUBERRY had homesteaded 160 acres of land on 2 Jan 1895. I found that there were two grants to William C RUBERRY; 80 acres on 28 Sep 1923 and 420 acres on 20 May 1948. On 18 Dec 1944 he had received a joint grant with his wife, Rachel M RUBERRY of 1280 acres. After William died in 1949, Mazie married again to Frank BOCK, called "Poncho."
Whilst in the FHL I also spent some time looking at the records maintained by Ellis Island, which started to process incomers to the USA in 1893. This was too late to find Richard and Harriet, but I did find quite a few other members of the RUBERRY Family of Cornwall. Follow the link below to read about them.
If you can add to or correct anything in this account please click here to email me: Polly Rubery.

The records of Ellis Island contain quite a few RUBERRYs, all but one of them from the Cornish family.

Read more about the history of this family and see their family tree.

The RUBERRY surname.

URL=http://www.rowberry.org/rridaho.html
Last revised: 9th November 2002
© Polly Rubery 2001