The RUBERRY Family of Cornwall

S

o far I have not been able to find any reference to the name RUBERRY, or anything similar, in Cornwall before second half the seventeenth century. The earliest reference on the Cornish On-line Parish Clerk website is in the 1664 Hearth Tax for the parish of Mabe, when Richard REWBERRY was assessed for one hearth. A marriage of Jane RUBERY to John TEAGE in 1681 at Feock states that she was "of Mabe"and so it seems possible that she was a daughter of Richard. In 1697 a Mary RUBERRY was buried at Mabe. There is also a marriage for James RUBERRY to Audry TUCKER in 1686 at Constantine. Their first children were baptised at St Hilary, and later ones at Perranuthnoe. Their children either remained there, or moved to St Just in Penwith, but appear to have died out by the third generation due to a high number of male infant deaths. If the family did not originate locally, as would appear, it is possible that Richard came to Cornwall either as a mariner, a metal worker or a mine worker. It is known that Rs were employed in all those capacities in other areas. Or perhaps, given the date, the upheavals of the Civil War and Commonwealth period prompted his move.

Towards the end of 2010 Wayne Ruberry, who is one of the "Idaho Ruberrys" that I visted in 2001 (see link below), volunteered to take a Y DNA Test. It was a very nice surprise to find that it matched the Y DNA of ROWBERRY Tree Two, which can be tracked back to the same sort of date, in the parish of Leigh, Worcesterhsire. Besides being yeoman, this family were weavers throughout the eighteenth century, so it is possible that they were related to the early weaving family found in Gloucestershire; or they may have originated in the local Herefordshire/Worcestershire area, but the loss of parish registers just before this time may be obscuring their origins.

What connections, if any, there are between Richard, James and the three RUBERRYs who married in the early eighteenth century in Cornwall has not yet been established. The first of these was John, a blacksmith of Germoe, married in 1713 at Perranuthnoe to Jael KITTOE. They had three children baptised at St Hilary, but the only son to survive to adulthood was a mariner who predeceased his father. Then in 1718 two marriages took place, Jane at Perranuthnoe to John GEACH and Richard to Elizabeth NINIS at St Hilary. It is from the latter marriage that all the present day members of this branch descend.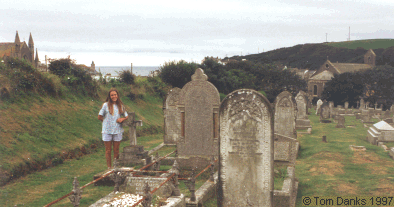 This branch forked into two separate limbs. From their son John, baptised in 1719 at St Hilary, came the farming families of Ludgvan. Members of this family have moved to the USA, Canada and Australia where they have all settled and founded families. From his brother James, baptised in 1721 also at St Hilary, arose the ship building families of Porthleven. One of this branch died in South Africa, as is commemorated on a tombstone in Porthleven churchyard, and another settled in Bermuda. Others also travelled to America, but eventually returned home.
The small coastal graveyard of Porthleven contains many fine RUBERRY gravestones, possibly due to the fact that from ship-building some of them turned to carpentry and building and hence to the undertaking business. A fellow GOON, Tom Danks, lived in Porthleven and was kind enough to photograph the headstones for me. In an interesting coincidence Tom himself has RUBERY ancestors as he descends from Elizabeth RUBERY baptised in 1810 at Tipton, a member of the RUBERY & Owen Family Tree. The photograph (taken in 1997) shows his granddaughter Rachel standing beside the little grave of Audrey RUBERRY who died in 1923 aged 2 years old. To the left of the photograph can be seen the Methodist Chapel, where William RUBERRY was an early class-leader; in the far distance the clock tower and the sea and to the right the parish church of St Bartholomew.
These are large image files and may take some time to download. If you are having problems viewing this tree please click here.
Please use your browser's scroll bars to navigate the tree. Scroll to the right to locate the key.
If you can add or correct anything please click here to email me: Polly Rubery.

Richard RUBERRY married in Cornwall in 1878. He settled in Idaho where his family now live.

The records of Ellis Island contain quite a few RUBERRYs, all but one of them from the Cornish family.

The RUBERRY surname.

URL=http://www.rowberry.org/rubcon.html
Last revised: 20th July 2012
© Polly Rubery 2001-2012