The USA ROWBURY Family

A

lthough a large number of the early Mormon converts emigrated to America, many remained behind in England and formed the branches of the Church listed in the Religious Census of 1851. Amongst the densely populated industrial and mining areas of the Black Country and Birmingham there were several branches, forming the Birmingham Conference. Prominent in those of Dudley and West Bromwich was Joseph ROWBURY. Two of his descendents, Darrell Rowbury and Joyce Otterstrom have researched the early records of the LDS church in the West Bromwich and Dudley areas and found many references to Joseph and his family. Joyce even found some minutes that were actually kept by Joseph, when he was Secretary to the Dudley branch.

Origins


Joseph was born in 1827 and baptised at Stoke Prior in Herefordshire. His mother Mary had been born at Grendon Bishop, and Joseph later gives this as his birth-place, together with "Bilville" a farm just over the border in Hatfield parish. Erroneous research has placed him as a brother of Bishop John ROWBERRY, but this is clearly incorrect. At present no definite link between these two families has been found, but there must be one at some point in the past. By 1851 Joseph had moved to the Black Country where he married Lydia DUNN in 1852. They had a large family, many of whom died as small infants as was common those days in the over-crowded and unsanitary urban areas. In 1873 Joseph suffered a severe stroke, and his life was despaired of. However after prayers by his wife and family he was restored to them following the administrations of Elder Robert Taylor BURTON, President of the Birmingham Conference at that time, and Erastus SNOW. President BURTON's Journal records:

"Sunday 29 [June] 1873... 2pm came with Bro Snow to Dudley 10 miles by RR [railroad] led meeting at 2.30pm and administered to a sick man who had a paralytic stroke returned to station mid a drenching rain returned by RR."

Joseph's daughter recorded the incident in her Book of Remembrance:

"...the elders administered to father. Elder Burton sealed the anointing and in his prayer promised father that he should recover, be gathered to the land of Zion, and go through the House of the Lord with his companion....It was but six weeks later when Father set sail for America."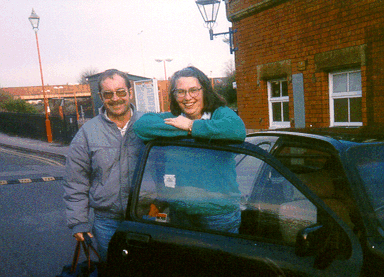 Emigrating


Joseph sailed from Liverpool on 3 Sep 1873 on the steamship Wyoming, and travelled to Fountain Green, Utah where Lydia's half-brother Samuel JEWKES was already living. It was to be two years before he and Lydia were reunited; she sailed from England on the same ship on 15 Sep 1875 together with her four youngest children, James Brigham, Mary Ann, Sarah Ellen and Clara. The two eldest sons remained behind in England, the eldest Joseph Lorenzo for life. The second eldest, William Erastus after marrying and having three children in England eventually travelled to Utah about 1886, where the rest of his family were born. Joseph was able to fulfill the prophesy of Elder BURTON when he took Lydia to the Endowment House in Salt Lake City to be sealed for eternity on 30 Oct 1879, before his untimely death from a fourth stroke in 1880. Today there are many of his descendents both in England and the USA. These are shown on the ROWBURY Family Tree.

In 1994 I was happy to meet with Darrell ROWBURY, a descendent of William Erastus, when he came over to England with his wife. The picture shows us outside Newbury Station.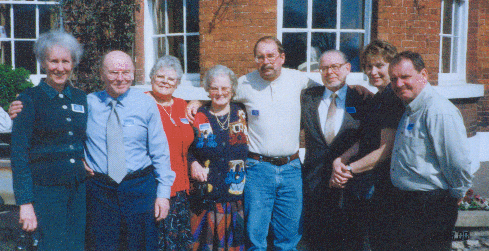 Reunited!


Darrell and Judy ROWBURY and his wife came over to England again in April 2000, to attend the ROWBERRY Family Gathering (RONS - 2000). Joyce OTTERSTROM also came, and it was to everyone's great joy that they were reunited with some of the descendents of Joseph Lorenzo ROWBURY. The picture shows them all outside of the Hundred House Hotel. From left to right they are: Joyce Otterstrom, Ted Rowbury, Enid Mills, Joan Gora, Darrell Rowbury, John Rowbury, Judy Rowbury and Alex Rowbury.

Even more cousins!


At the Family Gathering in 2002 (RONS-2002) Joyce OTTERSTROM and her husband Craig came over to attend and quite a few more cousins came along too. From left to right they are: John Adrian Rowbury, his father Royland Adrian Rowbury, then his father, Ted's brother John; Ray Mills, Terry Mokes, Peter Leeman, Joan Gora (Ted's sister), Kay Rowbury (John's wife), Enid Mills (Ted's sister), Norma Leeman (Ted's cousin and daughter of Wilfred Rowbury); Margaret Mokes, another cousin of Ted's and the daughter of Gertude Alice Rowbury; Joyce Otterstrom with her husband Craig sitting at her feet; Emma Pearson and Steve Pearson her father who are related to Joyce through the DUNN and JEWKES families; and finally last but not least Ted Rowbury himself. Also thanks to Adrian for sending the photos, which I have taken somewhat of a liberty with in order to use them here! Can you tell what I've done?

If you can add or correct anything please click here to email me: Polly Rubery.

To view the USA ROWBURY Family tree click here.


URL=http://www.rowberry.org/usabury.html
Last revised: 25th May 2006
© Polly Rubery 1999-2006